The Old Barlow Knife, a timeless classic, embodies the essence of craftsmanship and utility. With a rich history dating back centuries, it has captivated knife enthusiasts worldwide. Its iconic elongated handle and folding blade design have made it a symbol of tradition and durability. Crafted with precision and featuring materials like bone, wood, or synthetic materials, the Barlow knife continues to stand the test of time as a beloved tool. In this article, we will try to show the ways that how to tell how old a Barlow knife is.
---
Background History of the Barlow Knife
The Barlow knife is believed to have originated in the late 18th century in Sheffield, England, a renowned hub for cutlery production. Its name is often associated with the Barlow family, prominent cutlers of the time. In addition, another school thinks that the Barlow knife was first produced in around 1670. However, the knife quickly gained popularity due to its sturdy construction and versatility. It features an elongated handle and a folding blade, typically made of carbon or stainless steel. Over the centuries, the Barlow knife has remained a cherished tool, known for its craftsmanship and practicality.
Related: How to Date a Case Knife?
---
Challenges in Identifying the Barlow Knives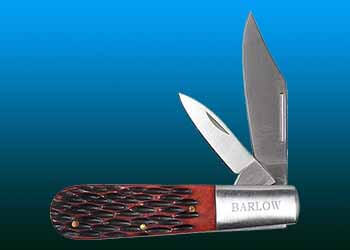 Identifying Barlow knives can present several challenges due to various factors. Here are some of the common challenges you may encounter:
Lack of Consistent Markings: Barlow knives, like many traditional pocket knives, often lack consistent markings or branding. This can make it difficult to determine the specific maker or manufacturer of a Barlow knife. Some Barlow knives may have maker's marks or logos, but others may have no identifying marks at all.
Multiple Makers: The Barlow pattern is one of the oldest and most popular pocket knife designs, and it has been produced by numerous knife manufacturers over the years. Different makers may have their own variations and interpretations of the Barlow pattern, making it challenging to identify the specific maker of a particular knife.
Vintage vs. Modern: Barlow knives have a long history, and vintage examples may have distinct characteristics and features compared to modern reproductions. Identifying the age and origin of a Barlow knife can be tricky, especially if it lacks clear markings or if it has undergone modifications or refurbishment.
Counterfeits and Replicas: Due to the popularity of Barlow knives, there is a market for counterfeits and replicas. These knives may be made to look like genuine Barlow knives but lack the quality and craftsmanship of the originals. Identifying authentic Barlow knives requires knowledge of their design elements, materials, and historical context.
Limited Reference Materials: While there are books, online resources, and collector communities dedicated to pocket knives, including Barlow knives, the available reference materials may still be limited. This can make it challenging to find accurate and comprehensive information for identification purposes, especially for rarer or less-documented variations.
To overcome these challenges, it is helpful to educate yourself about the design, features, and history of Barlow knives. Studying reputable sources, consulting knife enthusiasts and collectors, and examining authentic examples can enhance your knowledge and sharpen your identification skills. Additionally, joining online forums or attending knife shows and events can provide opportunities to learn from experienced collectors and experts in person.
---
How to Tell How Old a Barlow knife is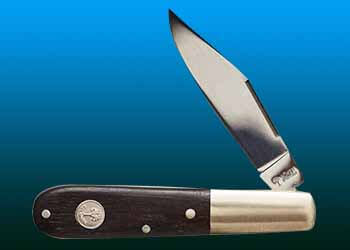 Dating a Barlow knife can be challenging since there are no standardized methods or markings to determine the exact age of a specific knife. However, here are some general guidelines and factors to consider when trying to estimate the age of a Barlow knife.
We will primarily seek 3 methods. They are:
Tang Stamp
Center Pin
Arrowhead Design
These three options are the best to find out the age of a Barlow knife. So, let's see how to use those methods. However, we will discuss some other methods too besides these.
Tang Stamps: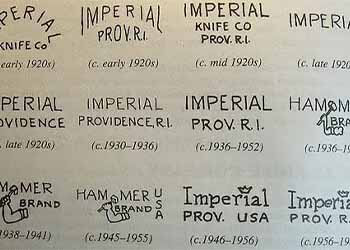 It's not surprising that we begin our journey by exploring the tang stamps when delving into the realm of vintage knives. These tiny imprints on the tangs serve as valuable starting points in unraveling the mysteries of their origins and potential manufacturing dates.
What's intriguing is that the tang stamps found on Barlow knives from various eras hold valuable insights, each telling a unique story of its own.
When it comes to Russel Barlow knives, it's crucial not to dismiss curved tang stamps as counterfeit. The original model, crafted before 1933, displayed the RUSSELL stamp in block letters arranged in a straight line. However, between 1933 and 1941, the tang stamps on Russell Barlow underwent a change, adopting a curved design. It's worth noting that these curved tang stamps are the ones most frequently counterfeited today.
Center Pin: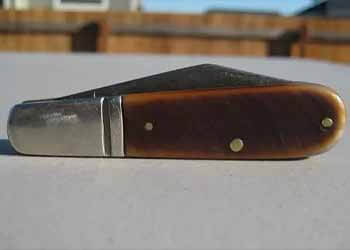 The center pin of a Barlow knife holds valuable clues about its authenticity, age, and special edition status. Examining the placement of the center pin on the knife handle or scales can provide insightful information to help identify the type of Barlow knife you possess. Here are some key insights to aid in determining the characteristics of your Barlow knife:
Differentiating between an original Barlow knife, replicas, and commemorative units can be discerned by observing the placement and material of the center pin:
Original Barlow: The center pin of an original Barlow knife is positioned at the middle of the scale. The pins used are typically made of steel, rather than brass material.
Replicas: In the case of replicas, the center pin is typically not placed in the middle of the scale but closer to the bolster. Furthermore, replicas often employ brass material for their center pins.
Commemorative Units: Commemorative Barlow knives are crafted to resemble the authentic counterparts. To identify a commemorative unit, pay close attention to signs of wear on the center pin area, as these knives may exhibit intentional aging or distressing to enhance their commemorative appearance.
By considering these factors, you can better determine whether you are dealing with an original Barlow, a replica, or a commemorative unit.
Arrowhead Design: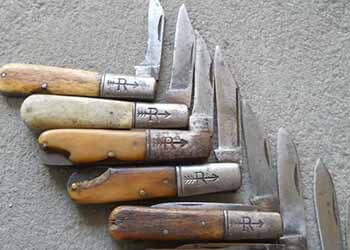 The primary logo of the John Russell company features a unique design element—an arrow passing through the letter "R." Interestingly, the arrow itself serves as a valuable indicator to distinguish the original from the counterfeit and identify early-year Russell Barlow knives. Many may not be aware of this subtle detail, but closely examining the arrow can provide essential insights into the knife's authenticity and its origin within the history of Russell Barlow knives.
When examining the arrowhead area of the John Russell company logo on Barlow knives, there are key details to consider:
Originals: In the case of original knives, the arrowhead will have more space before reaching the part of the bolster closest to the pivot.
Replicas: Replicas, on the other hand, will typically feature an arrowhead that is positioned closer to the top of the bolster itself.
It's worth noting that there are some misconceptions about the bolster material, specifically the belief that it must be made of iron rather than nickel silver. However, it's important to acknowledge that certain larger Barlow knives, such as those designed for hunting and fishing, were indeed produced with nickel silver bolsters. As a result, it's difficult to determine if this material was also used in smaller Barlow knife options.
To err on the side of accuracy, it is generally safer to assume that smaller Barlow knives were made with iron bolsters, as this is the prevailing knowledge in this regard.
Research and Reference Materials:
Gather as much information as possible about the history and evolution of Barlow knives. Look for books, online resources, and collector guides that provide details on different makers, variations, and production periods. These resources can provide insights into the characteristics and features associated with specific timeframes.
Maker's Marks:
Examine the knife for any maker's marks or tang stamps, which are markings typically found on the tang (the metal part connecting the blade to the handle) of the knife. These markings may include the manufacturer's name, logo, or a combination of letters, numbers, or symbols. Research these markings to determine which manufacturer used them and the corresponding timeframe of production. However, note that not all Barlow knives have markings.
Blade Etchings or Engravings:
Some Barlow knives may have etchings or engravings on the blade, such as the manufacturer's name, logo, or other decorative elements. These markings can provide clues about the age and origin of the knife. Research the specific markings or designs to determine their historical context.
Construction Techniques and Materials:
Pay attention to the construction techniques and materials used in the knife. Older Barlow knives may have different blade steel, handle materials, or manufacturing methods that were common during specific periods. Compare these characteristics with historical information to make an educated guess about the age of the knife.
Patina and Wear:
Examine the overall condition of the knife, including any patina or signs of wear. Vintage Barlow knives may show signs of aging, such as blade discoloration, handle wear, or patina on the metal parts. These can be indications of an older knife, although they are not definitive proof.
Consult Experts and Collectors:
Seek advice from experienced knife collectors, experts, or members of knife enthusiast communities. They may have knowledge of specific Barlow variations or be able to provide insights based on their own experiences with similar knives.
Remember that dating a Barlow knife is not an exact science, and the information you gather may only provide an estimate or a range of possible production dates. Dating a knife with certainty often requires detailed historical documentation or specific knowledge of the manufacturer's production records, which may not always be available for Barlow knives.
Related: How To Date A Kissing Crane Knife?
---
Factors that Affect the Value of Barlow Knives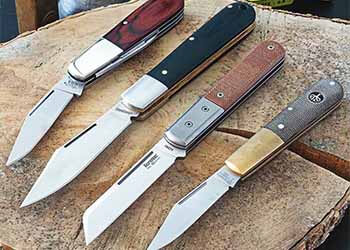 Several factors can influence the value of Barlow knives. These factors include:
Age: Generally, older Barlow knives tend to have higher value due to their historical significance and relative rarity. Vintage Barlow knives from specific eras or with unique features may be particularly sought after by collectors.
Rarity: Limited production numbers or variations of Barlow knives can significantly impact their value. Limited editions, special releases, or unique designs that are hard to find are often more valuable in the collector's market.
Condition: The condition of a Barlow knife is crucial when assessing its value. Knives in excellent, well-preserved condition, with minimal wear, corrosion, or damage, are generally more valuable. Collectors typically prefer knives that have been properly maintained or restored to their original state.
Maker or Brand: The reputation and history of the knife maker or brand can influence the value of Barlow knives. Established and renowned manufacturers often command higher prices due to their craftsmanship, quality, and legacy. Examples include historical brands like W.R. Case & Sons, Russell, Robeson, and Imperial.
Materials: The materials used in the construction of a Barlow knife can impact its value. Knives made with premium materials such as high-quality blade steel, handle materials like exotic hardwood, bone, or genuine stag, and decorative elements like engravings or inlays tend to have higher value.
Collectability and Demand: Factors like collector interest, trends, and market demand can significantly influence the value of Barlow knives. Limited editions, specific patterns, or unique variations that are highly sought after by collectors may command higher prices.
Historical Significance: Barlow knives associated with historical events, famous individuals, or specific time periods may hold greater value due to their historical significance or provenance.
It's important to note that the value of a Barlow knife is subjective and can vary based on individual preferences and market dynamics. If you are looking to determine the value of a specific Barlow knife, consulting with experienced collectors, knife appraisal services, or researching recent sales of similar knives can provide a more accurate assessment.
Related: How to Date a Carl Schlieper Knife?
---
Frequently Asked Questions:
Q1: What is a Barlow knife?
A1: A Barlow knife is a folding pocket knife with a distinctive elongated handle and a single or double bolster. It typically features one or two blades that fold into the handle, making it a versatile and practical tool.
Q2: Who invented the Barlow knife?
A2: The exact origins of the Barlow knife are uncertain, but it is believed to have originated in England during the 17th century. It was later popularized in the United States, particularly in Sheffield, England, and in the region of Massachusetts, where the Barlow family produced them.
Q3: What is the distinguishing feature of a Barlow knife?
A3: The most distinguishing feature of a Barlow knife is its elongated handle, which provides a comfortable grip and makes it easily recognizable. Additionally, Barlow knives often have a single or double bolster and can have one or two blades.
Q4: Are Barlow knives collectible?
A4: Yes, Barlow knives are highly collectible. They have a rich history, and vintage examples, especially those from well-known makers or with unique features, can be valuable to collectors. The rarity, condition, age, and maker all contribute to a Barlow knife's collectability and value.
Q5: How do I determine the age of a Barlow knife?
A5: Determining the age of a Barlow knife can be challenging, as there is no standardized dating system. Tang stamps, handle materials, and historical research can provide some clues, but consulting specialized knife references and experienced collectors is often the best way to determine the approximate age of a Barlow knife.
Q6: Can I use a Barlow knife for everyday tasks?
A6: Yes, Barlow knives are designed to be versatile tools suitable for everyday tasks such as cutting, carving, and general utility work. However, the specific use depends on the blade configuration and the intended purpose of the knife.
Q7: What are the different blade types available in Barlow knives?
A7: Barlow knives commonly feature straight-edge blades, but they can also have additional blade types such as clip point, spear point, or sheepsfoot. The blade types may vary depending on the manufacturer and the specific model of the Barlow knife.
Q8: Are there modern versions of Barlow knives available?
A8: Yes, modern versions of Barlow knives are readily available from various manufacturers. These knives often blend traditional design elements with modern materials and manufacturing techniques to offer a balance of nostalgia and functionality.
Q9: How do I care for and maintain a Barlow knife?
A9: Proper care and maintenance of a Barlow knife involve regular cleaning, lubrication of moving parts, and storing it in a dry environment. Avoid exposing the knife to excessive moisture, harsh chemicals, or extreme temperatures to preserve its condition.
Q10: Where can I find genuine Barlow knives for purchase?
A10: Genuine Barlow knives can be found at reputable knife retailers, online marketplaces, antique stores, and from private collectors. It's important to verify the authenticity and condition of the knife before making a purchase.
---
Final Words
Dating a Barlow knife can be a fascinating endeavor that requires attention to various details. Tang stamps, handle materials, blade characteristics, and historical research all play a part in determining its age and authenticity. However, due to the lack of standardized dating systems, consulting expert references and experienced collectors is often necessary for a more accurate assessment. Remember that dating a Barlow knife involves careful analysis and consideration of multiple factors to unravel its unique story and place it within its historical context.
---