If you are working in a shop or making any DIY project, a utility knife is a must-have tool. A utility knife can be versatile in completing many tasks. Choosing the best utility knife for your work would be much easier. This box cutter knife is ideal for cutting carpet, paper, rope, rubber hoses, PVC, leather, fabric, Sheetrock, and so much more. This is why knowing how to choose the best utility knife helps you save the day. A utility knife is also the best carpet cutting tool. You should choose your razor blade knife considering some important features. So, what are those important and considering features?
As the utility knife we are going to discuss is different from a gardening knife, it must be different in size, shape, style, and design. Let's know those features that can distinguish a utility knife completely from other knives.
---
How to Choose the Right Utility Knife
Choosing the right utility knife requires some important factors to consider. We will now discuss the undeniable and unavoidable features that can help to pick the right utility knife. In this article, we will dive into in detail utility knife choosing factors to give you a clear and broad overview of what utility knife you should be looking for when choosing your next work knife. So, let's get started.
Working applications
First and foremost what is most important to know is on what purpose you are going to use the knife for? The nature of works should be included like what you need to cut and how frequently you will use it.
The blade must play a vital role. Whether the blade will last longer or disappoint you in a short time depends on a quality blade. Engineering construction, interior decoration, office supplies, or daily life tasks- what kind of work do you need to perform? These all questions are related and important to selecting the best utility knife. So, analyze all the questions carefully. The answers would be the solutions.
The Handle
The next important factor to consider to choose the best utility knife is its handle of it. A handle of a knife indicates how handy and comfortable the utility knife would be. If the box cutter is your regular cutting tool, you must have to choose a box top cutter with an ergonomic handle. So, what is an ergonomics handle?
An ergonomic handle includes how a user will hold the knife, the grip of the handle, angles at which the knife will be held, and any buttons if a retractable blade is being used. Once you touch it, you can feel how good to hold and the handle is. In addition, if you give a trial by doing something like cutting or using it for a moment, you can understand how this carpet cutter or box cutter knife would be.
The handles must be sturdy, non-slip, and comfortable and this is how you will pass the first step in choosing the right tool for you.
The Blade (4 Types of Blades)
All retractable or folding knife blades are not equal in quality, size, and sturdiness. This is why you must have to pick the best blade of the utility knife the one that fits the job you are intending to do. So, depending on the nature of your work, the blade has to be chosen.
Well, there are four kinds of utility blades that differ in strength, precision, and price. The stronger the blade is, the tougher materials are easy to cut. Remember, all types of blades can have razor blade sharpness, but heated metal blades are able to keep that sharpness longer. The four types of blades are:
Non heat-treated blades: these types of blades are not heat-treated and this is why, they are not that strong, stiff, and durable. They are the most inexpensive option as well.
Induction-hardened blades: these types of blades are heat-treated blades that make it stiff and tough. In addition, it also completely outperform a non-heated blade.
Bi-metal blades: when two different pieces of metal are bonded to form a new element, it becomes strong and sharp. The sharp blade stays sharp for a long time.
Carbide blades: these are actually ceramic blades. A steel blade coated with a powder that makes it super strong for the longest-lasting sharpness.
So, you now can choose and identify the blades for your knife. Remember, the longer and best process of a blade can make the blade costlier. Pick the best one considering your work and everything.
Corrosion Resistance
This factor is also one of the important factors to consider while choosing the best utility knife. Corrosion resistance means how the blade is able to resist rusts and discoloration. For example, if you use your utility knife for cutting vegetables like tomatoes, it can corrode the knife because tomatoes have acids. However, corrosion resistance in terms of a utility knife should also be considered for knives being used outdoors, in places like timber yards or fisheries. In these circumstances, you should ensure your blade is corrosion-resistant in order to prolong the life of your knife.
Blade Casing
Some utility knives come with a metal outer casing while others have a plastic outer casing. Metal casing or metal outer shell of the box opener tool is more durable as well as heavy-duty. A casing made of metal is more expensive too but it is also true that it may not be suitable for all sectors and industries.
On the contrary, a plastic casing utility knife nowadays comes with some different options. However, it also offers some added benefits of insulating from temperatures and electricity. In addition, this is beneficial for those who are working in cold temperatures as well as for the people who are also working with electrical machinery or equipment.
Retractable or Hidden Blades
Most utility knives have retractable blades. Retractable because the blades can be retracted when it's not in use. The type of blade locking mechanism or other knife design particularly varies from person to person. However, there are a lot of options available such as retractable knife, hidden blade knife, folding cutter, fixed knife, and so on.
Safety
Safety is what nobody should be compromised. A utility knife is sometimes risky if the lock on/off mechanism is not that good. This is why you must check the authentic reviews. It would be better if you have anyone known who is using any utility knife.
One of the reviewers mentioned due to the sudden pop-up of the blade he was going to be vasectomized. However, the vasectomy was not successful but he had to sew his pants. The comment was true but it is just a simile. So, retractable or folding whatever utility knife it is, make sure the on/off mechanism is perfect.
If you are now wondering where can I get such a knife that will not vasectomize me when it is in my pocket? Well, no worries, there are a lot of good-quality utility knife brands out in the market. You can start by browsing how to find the best knives and box cutters? Or, you can go to the site Toolneedy.com and search articles in the hand tools, then gardening tools, and then the knife section. You can find your desired article to find the best knife.
---
What Type of Blade Should I Choose?
Choosing the best utility knife, the best type of blade is essential to choose as well. Without a suitable blade, the total mechanism and tool would not be perfect. So, let's know more about more quality blades and the types of knives.
Retractable vs. Fixed Blade
Usually, there are two main types of utility knives out there to choose between. They are a retractable utility knife and a fixed blade utility knife.
Simply a retractable blade is good for many works such as for cutting carpet, paper, plastic leather, rope, carton box, home DIY use, etc.
While a fixed blade is the best box cutter which is great for completing the tasks such as cutting carpet, paper, rope, rubber hoses, PVC, leather, fabric, Sheetrock, and so much more.
Let's now know about the main traits of a retractable and fixed blade.
Retractable blade:
Blade is pulled back in for safe storage
Tedious pulling blade in and out when you are doing multitasking in a day (like for drywall cuts)
Good for blade bending or snapping
Home DIY use is better than pro builders
Inexpensive and affordable
Strong locking mechanism
Easily portable
Durable, lightweight, and comfortable
Changing blade mechanism
Fixed blade:
Fixed blade is used for greater strength
Easy access with one-handed operation
More precise cuts
Easily and instantly exposable
More expensive but built to last longer
Very versatile
Great tool for pro users
Easily portable
Folding vs. One-Handed
These terms are easily understandable that what a folding and one-handed knife is. However, it is important to know within the fixed-blade style of pro-level utility knives, there are folding or blade-cover knives. Choosing any of them is more about your own preference.
A folding utility knife is good if you don't use the knife frequently. They are small in size and portable as well. As the knife is folded they are completely safe to carry in your pocket.
A one-handed knife, on the other hand, is supposed to be used all day long. This knife is called one-handed because you don't have to open and close your knife over and over which can become very tedious over time. It is used frequently such as many times in a day. This utility one-handed knife comes with a blade lock that snaps a blade cover on and off with the push of a button. Make sure it has a strong locking mechanism so that you are safely covered when not in use.
However, we will, later on, try to discuss box cutter vs. utility knife, electric carpet cutter, cutting carpet with oscillating tool, the best tool for cutting up old carpet, carpet knife vs utility knife, and how to use a carpet knife. So stay with us and enjoy our articles. And you have already known how to choose the best utility knife.
---
Additional utility knife features
Wire strippers are for electrical work
Gut hook to make quick cuts without opening the knife
String cutter
Specialty blades for different materials
Belt clip or pocket clip for easy access
Lanyard hole if you prefer to hang your tool from your belt
---
4 Features of a Pro Utility Knife
A perfect and heavy-duty knife is supposed to have some features that can easily identify it as a pro utility knife. So, it is truly important to know those features of a pro knife. Why late, let's know more about the features of a pro utility knife.
Comfortable Handle: what should be one of the best features to be a pro utility tool is its finger notch and comfortable grip. Well a finger-friendly handle will prevent your finger from slipping up toward the blade while you make cuts. A comfortable and anti-slip grip helps you keep your hand from slipping while pulling through tough materials.
Metal body: a knife body made of steel will make it durable and be able to withstand in any adverse situation. It will strengthen your confidence to work for constant use on the job site. But nowadays, a plastic body knife is more common.
Easy blade change: changing blades with easy and simple way makes the knife really pro. You may know standard box cutters often require a screwdriver to change out the blade. Sometimes, it doesn't have a replaceable blade at all. While on a modern utility knife you can change blades with a thumbscrew or finger release. In addition, you should look for a knife blade storage so that you always have extra blades on hand for quick changes.
Safety Issues: a very uncompromising issue is a safety issue. Strong locking and unlocking mechanism must be required in order to keep you safe even while you are carrying the knife in your pocket. So, be careful when you are trying to choose the best utility knife for you.
---
5 Best Utility Knives According to Professionals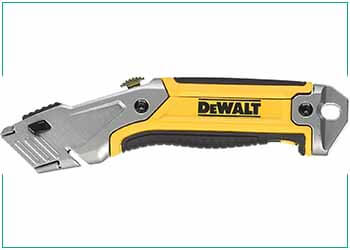 If you are really searching for a retractable utility knife, Dewalt Retractable Utility Knife would be the best for you. It has some features that are amazing.
Main Features:
Rugged metal body
Rapid load blade changing system
Blade storage for convenient access to new blades
Retractable blade offers variable cut depth
Dual material handle for improved grip and control
These all features are incredible and all pro utility knives have these features. You can try it. Highly recommended.
DW KNVE RET
Rugged metal body for prolonged tool life
Rapid load blade changing system for quick blade changes
---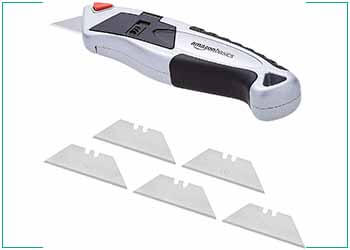 Have you already decided what kind of utility knife you are required for? A retractable, fixed, folded, or one-handed? If it is a retractable heavy-duty knife, the Amazon Basics Heavy Duty Auto-Load Rubber Grip Utility Knife is the best for you.
Main Features:
Zinc-alloy utility knife with SK5 blade
Rubber anti-slip cushion grip handle
Retractable and adjustable blade
A versatile knife to use
Fantastic lock mechanism
5 replaceable blades inside handle storage
An Amazon Basics 1-year limited warranty
This is an amazing and best auto-load rubber grip utility knife. You can trust this knife because the safety lock is available too. Highly recommended.
---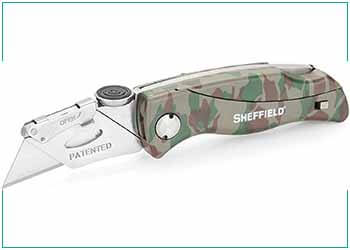 Sheffield Camouflage Quick Change Utility Knife is one of the best utility knives in everyday use. You may find all the features you need. This is very sturdy and handy to use. The Sheffield Camouflage utility knife is a very lightweight knife and easy to carry too.
Main Features:
Patented quick-change blade
Lock back release system
Blade storage in handle
Powerful work knife
Convenient belt clip for everyday carry
One-handed opening
Safe, handy, and comfortable
This Sheffield Camouflage Quick Change Utility Knife can be the best aluminum-made utility knife. Lightweight and easy to carry in your pocket. One-handed open and no harassment.
Sale
---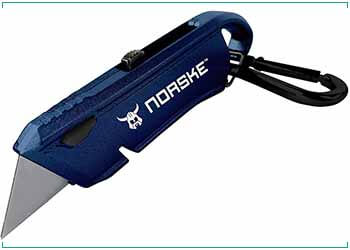 An outstanding utility knife can make your job easier. Such a quality utility blade is Norske Tools Metal Utility Knife. It comes with a carabiner. A very good and good-looking utility tool for cutting boxes, leather, papers, rope, rubber hoses, and so on.
Main Features:
Quick and tool-free blade change
Maximum strength and durability
Made of metals
Slide button reduces accidental activation and retraction of the blade giving users maximum control
Integrated string cutter
I know this metal utility knife doesn't have more reviews but honestly, this is one of the best utility knives you will ever know. This metal body box cutter knife is really worth a shot. Highly recommended.
---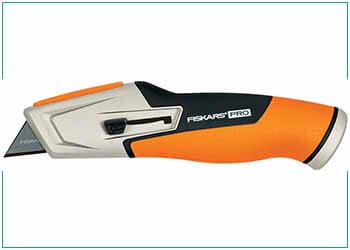 One of the most reputed brands in the world of tools is Fiskars. Fiskars Pro Utility Knife is a retractable knife that boasts great blade security and is easier to use. The side-blade switch action prevents accidental blade retraction.
Main Features:
Side blade actuation prevents accidental blade retraction when you're in the middle of a job or carrying it in your pocket
Quick and easy change blades
Five-blade storage capacity
Reinforced metal end provides sturdy, reliable resistance against pounding and drops
Made of CarbonMax that lasts 24X longer than the competition
Fiskars Retractable Pro Utility Knife doesn't disappoint its users easily. With such amazing features, this pro utility knife is built by popular demand. Provides the best features. Highly recommended.
---
Final Words
If you have already known how to choose the best utility knife, it's a great achievement for us to let you learn the lesson. A utility knife is great for engineering construction, interior decoration, office supplies, and daily life tasks. So, a strong and reliable knife is much needed for it. A pro utility knife can save the day. So, try to choose the right utility knife for your job.
---
Last update on 2023-09-27 / Affiliate links / Images from Amazon Product Advertising API