One of the most important gardening tools is a garden pruning knife. It is the favorite tool for any gardener. There are a lot of knives for gardening and the pruning knife is one of them. The gardeners need to know properly how to use a garden pruning knife. Knowing gardening knives used in a proper way makes a person smarter and more productive. A garden pruning knife can be used in a multiple-way if you know the strategies and techniques. And all these can be acquired through the practice and regular tools used. So acquiring adequate knowledge of the best gardening knives would be an additional qualification for a gardener.
What is Pruning?
The word 'pruning' means trimming, cutting back, thinning out, cropping, clipping, shearing, and so on. It helps to resize a tree, shrub, or bush into perfect shape. How is the pruning done? A pruning knife is the best way to make your small trees pruned perfectly. Let's know what a pruning knife is.
"A plum dried or capable of drying without fermentation, or to cut off or cut back parts of for better shape or more fruitful growth". – Merriam-Webster Dictionary
"A pruning of the product range and the 30 factories they currently own could produce massive savings". – Cambridge Business English Dictionary © Cambridge University Press
---
What is a Pruning Knife?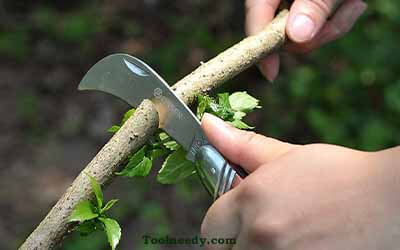 A pruning knife is one kind of tool that helps to thin out, cropping, clipping, trimming, or shearing a tree, shrub, or bush in your garden, lawn, or yard area. The pruning knife helps by removing superfluous or unwanted parts of the overgrown branches or stems of a tree, bush, or shrub.
In a word, simply a pruning knife is a knife that cuts away a branch or stems from a delicate tree or a shrub, etc. The knife should be sharp enough to clip them perfectly. So a trimming or a cropping knife means the same.
---
Different Types of Pruning Knife
To prune a tree, a pruning knife can have different designs and styles. All of them are useful to thin out a tree. Sometimes, you may see some short and sharp with a blade around 3 inches (8 cm). It has a wooden or heavy-duty handle too. Well, some knives are just in one piece like Hori Hori Garden Knife while others are foldable gardening knives.
In addition, you may sometimes observe that some knives have different and multiple knives in one frame like Grafting Gardening Knife for Pruning.
In case you are beginning to gardening, you will gradually know about these terms; garden knife, gardeners knife set, garden pruning knife, the best knife for plant cuttings, large garden knife, serrated garden knife, gardening knives, folding gardening knife, gardening knife uses, and so on.
And, you will then try to know about what is the best gardening knife, best gardening knife UK, best Japanese gardening knife, best gardening pocket knife, best Hori Hori gardening knife, and best folding gardening knife. These are all important for a gardener to know. It must and does enhance the productivity of work.
---
How to Use a Garden Pruning Knife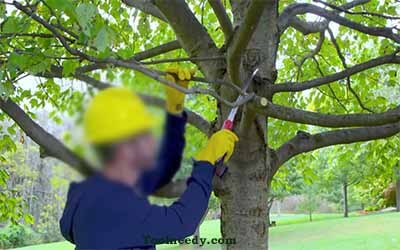 A garden pruning knife is not easy to handle unless you have adequate knowledge and practical experience on it. A lot of practices can make you expert and smart enough to move your pruning tool around trees or bushes. So, it does without saying, it is inevitably important to learn how to use a pruning knife before you start a task.
Well then, how can I use a pruning knife? First, learn the use of the motion of how a pruning blade is taken away from your body, remember, not toward you. If you try to move the trimming knife towards you, you may be severely injured by cutting your fingers or hand. So this is the primary lesson.
More precisely, while you are trying to cut back stems of trees or vines, hold firmly the part of the tree to be cut away from you. Pay your undivided concentration to it to cut it with a sharp slicing motion away from your body so that no unexpected occurrence happens injuring yourself.
The next part to learn how to use a pruning knife is to clean up pieces of bark. You can do these types of jobs easily done with tree-cutting knives. Grasp the curved garden knife with the blade exactly parallel to the branch and then slice carefully the hanging pieces off the stem. Now, use a swift motion to cut off the stem and make the work done cleanly. Nothing happens. Everyone is happy. Just know the tricks and strategies to use a garden pruning knife.
---
What Is The Best Gardening Knife?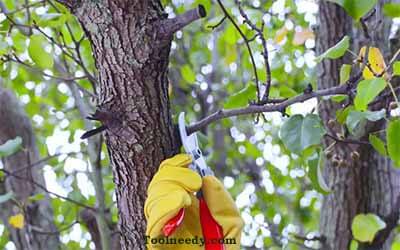 There are many kinds of gardening pruning knives on the market. You need to see and match your criteria with the one you are going to buy. But here, in order to save your precious time, money, and energy, we are going to show you some best gardening knives that you may choose. To choose the best gardening knife you need to know what kind of task you are going to do. If you want to prune, tools must be different and if you want to trim the hedges, you need some specific tools for it. For this reason, knowing about trimming vs pruning would be a great way to choose a tool for your garden.
---
The Best Gardening Pruning Knives
Best Garden Guru Hori Hori Gardening Knife for Weeding
Features:
Stainless Steel Full Tang Blade – Strong and Thick, Rust Resistant, High-Grade, Easy to Sharpen and Clean
Rose Wood Handle – Comfortable and Beautiful
Woven Nylon Sheath – Attaches to 2-inch Wide Belt
Planting Measurements – Depth Gauge Engraved on Blade in mm and inches
Total Length = 12 1/4 inches
Blade Length = 7 inches
Blade Width = 1 5/8 inches
Weight = 8 ounces
---
Best Hori-Hori Weeding & Digging Knife for Metal Detector
Features:
Toughened serrated edge of garden pruning knife
Razor sharp edge of the digging garden tool
Graded measuring surface on the garden digging knife
Multipurpose gardening digging tool
All-in-one Japanese garden pruning knife
Also ideal for gutting fish or poultry during camping, cutting slim branches to gather firewood, or for loosening root bound plants
---
Best Linsen-outdoor Pruning Knife
Features:
Wonderful versatile tool
Grafting knife
Sharp blade with high-quality stainless steel
Comfortable wooden handle
Great for trimming twigs, hunting, weeding, cutting, removing suckers, etc.
Ideal for gardening
Sale
---
Best Hori Hori Garden Knife
Features:
Premium quality and design
Durable and multipurpose
Measure soil with ease
Optimum comfort and safety
Superior craftsmanship
Sale
---
Best Fiskars Big Grip Garden Knife
Features:
Padded and oversized handle
Polished cast-aluminum head
Sharpened blade with serrated edge
Ideal for a variety of garden tasks from digging to opening bags
Sale
---
Best Multi Cutting Tool with Super Sharp Japanese Stainless Steel
Features:
Super sharp Japanese steel blade
Comfort and durable wooden handle
Durable multi cutting knife
Safe and easy to carry
Widely use pocket knife
Multipurpose and versatile
---
Best Grafting and Pruning Knife
Features:
Safe and easy to carry
Widely use pocket knife
Multipurpose and versatile
Ergonomic wooden handle
Sharp stainless steel blade
---
Best Swpeet 190Pcs 2-in-1 Garden Grafting Tools Kit
Features:
High quality gardening pruning tool
Double blade grafting knife
Easy to use and carry
Portable and safe to carry
Replace blades and rubber bands easily
---
Best Folding Hawkbill Pocket Knife
Features:
Carbon steel blade
3.5 cm
L x W x H – 3.94 x 3.94 x 2.36 inches
Weight only 50 Grams
---
Best Corona Tools 10-Inch RazorTOOTH Folding Saw
Features:
Cut 2x faster
Sharp longer
Ergonomic handle
Chrome-plated blade
Sale
---
Best KAKURI Japanese NATA Tool Knife 6.5″ (165mm) and Pruning Saw
Features:
Made in Japan
Excellent sharpness of Japanese steel
Accurate and less power cutting
Heavy-duty hand forged blade by Japanese blacksmith
---
Final Words
Trimming or pruning or thinning out a tree by an expert hand is always good and a tree will never be hurt. This is why knowing how to use a garden pruning knife would make you a good gardener. Using tools and a gardening knife uses would also be an added advantage for you. A knife can be used in a versatile way if you know how to use a pruning knife properly. So, gathering this important knowledge and practicing much will make you a great gardener. Super productive and efficient.
Happy learning and buying!
---
Last update on 2023-09-26 / Affiliate links / Images from Amazon Product Advertising API