Without some essential gardening tools, a gardener cannot take care of the garden. A few primary tools are required to make the garden aesthetic and healthy. Professional gardeners always rely on some tools that make the job easier. To save precious time, money, and energy, gardeners need some must-have gardening tools.
In order to do gardening works like sowing seeds, trimming and pruning shrubs and trees, maintaining lawn and yard, and other gardening activities, you must need some must-have gardening tools. Actually, these tools can help your job be done easier and quicker.
---
10 Must Have Gardening Tools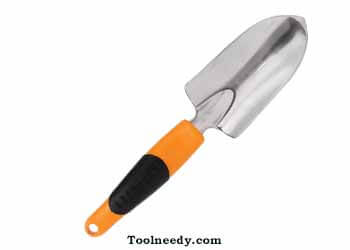 An essential gardening tool is Hand Trowel. It is a small tool but plays an important role in planting, transplanting, and potting. You must choose one that is sturdy and strong. The connection between blade and handle must be fantastic so that it doesn't go off. A comfortable grip on the handle helps to reduce hand fatigue and gives you optimal control.
A good Hand Trowel to be mentioned is a Fiskars Ergo Trowel. It has been designed for easy and comfortable use. Durability and lightweight are other features of this product. In addition, the ergonomically designed handle reduces hand and wrist fatigue. Moreover, the cast-aluminum head is rust-resistant and won't snap off while you are working no matter how tough your soil is. Furthermore, there is a handle hang hole that provides easy storage.
Sale
---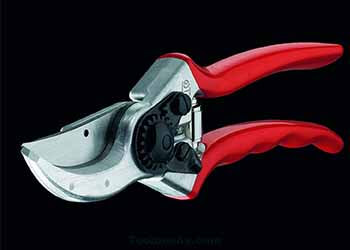 One of the most important tools for gardening is hand pruner. It is also called pruning shears, pruners, or clippers. This tool is specifically used for thinning trees and shaping plants. A high-quality secateurs can last a very long time even if you rough use it. A good manual hand pruner is able to cut the thick branches of a tree easily and without any significant effort.
Such a hand pruner is FELCO F-2 068780 Classic Manual Hand Pruner. It contains an anvil blade with a sap groove. You can notice a hardened bolt and nut to have an exact adjustment of both the cutting and anvil blades. In addition, FELCO Classic Manual Hand Pruner has a Lightweight metal handle. The blade is made of high-quality hardened steel. And yes, this tool offers a limited lifetime warranty.
Sale
---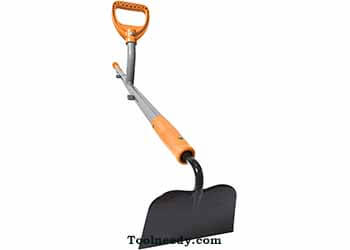 Digging the soil of a garden is essential. The best way to dig soil is a hoe. It is a manual hand-powered tool. This tool is important because you can cultivate the soil, edge your lawn, and do others gardening tasks too. A hoe is a versatile garden tool. You can find this tool most useful when you are preparing beds for planting and weeding.
Such a good patented ergonomic second handle hoe is ERGIESHOVEL Steel Impact Resistant Garden Hoe. This tool has a 6.25 inches shank pattern blade that helps you control the hoe easily and perfectly. The lightweight and durable design are really great for your work.
This Hand Hoe is very useful and effective to a gardener even anybody who works like this kind of work. You can trust this ERGIESHOVEL and be confident.
---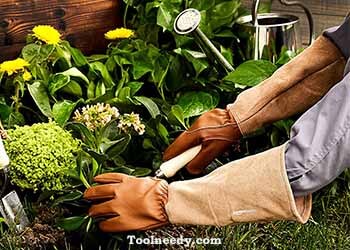 An essential must have gardening tool for gardeners is gardening gloves to protect your hands from thorns and splinters. However, you can easily prevent it from hurting yourself by wearing a quality good pair of gardening gloves. Besides, no blisters on your palms will be allowed while doing these kinds of jobs.
However, fortunately, there is a wide range of quality hand gloves in the market or online. You can also get hand gloves for women and hand gloves for men as well. Such a gardening hand glove is Amazon Basics Leather Gardening Gloves with Forearm Protection. You can find different colors.
In addition, this Amazon Basics Leather Gardening Gloves is good for pruning rose bushes, cutting back blackberries, and so more. The best feature is that it is flexible and has a pliable design for optimal dexterity and control. Moreover, the ergonomic thumbs allow for a secure grip on garden tools. Furthermore, the elbow-length gloves must protect your hands from any scratches or hurts.
---
To be truthful, a gardener cannot take care of a garden without a spade. A spade has a long handle and a long, narrow, and flathead. To complete your gardening tool kit, a spade must be one of them. You can do a lot of works with a good spade such as digging soil, edging beds and lawns, transplanting, dividing shrubs, trenching, and lots more.
You can find such a handy and quality spade in the market. However, I can still name one which is Fiskars 46 Inch Steel D-handle Square Garden Spade. This gardening spade is great for edging, cutting a trench, slicing through thick turf or digging, and much more. An extra-large D-handle shape design offers you control while digging.
In addition, the welded 14-gauge hardened steel blade and 18-gauge steel shaft provide super durability and the wood handle won't disappoint you like a fiberglass handle.
Moreover, the blade is really sharp which allows it to penetrate even the tough soil or break up hardened dirt clods. The long shaft will help you much to do the job done easily and effortlessly. You can trust this spade. Highly reliable.
Oh, and yes, the Fiskars D-handle Square Garden Spade provides you with a lifetime warranty for the product. So you are assured.
Sale
---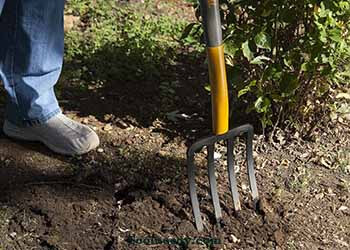 To care for your garden and lawn, a gardening fork is essential. It is undoubtedly one of the most hardworking tools in any gardener's arsenal. You may know, a garden fork is a multi-task equipment. Aerating lawns, breaking up compacted soil, creating holes for seeds, mixing in soil treatment, removing stones and weeds, and a lot of other tasks can be done with a garden fork. However, it is strong and sturdy, and sharp that can easily penetrate difficult terrain than a spade.
Such a gardening fork is the True Temper 2812200 4-Tine Spading Digging Fork. It has a 30-inch hardwood D-grip handle that helps much to grab the tool firmly. The forged spading forkhead is sharp enough to penetrate any tough soil easily. In addition, the strength and durability are superb.
Moreover, this True Temper Spading Digging Fork is made in the USA and they offer you a 15-year warranty.
---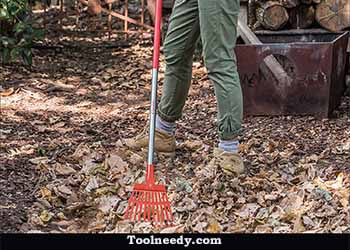 A rake is supposed to use to remove stones, dried leaves, pebbles, and clogs from the grounds before planting, and so on. A rake is so important for leveling and smoothing the surface of the soil for planting. However, you may find a variety of rakes in the market. According to your need, choose the right one you need. For example, a fan-shaped rake is good for covering large areas if you want to sweep up leaves while a heavier duty bow rake would be suitable for leveling or sweeping away stones from the ground.
So, if you need a rake for making and leveling your land, a rake named Corona RK 62060 Fixed Tine Shrub Rake is one of the best ones to choose. This tool is made of tempered spring steel for the greater durability that everyone wants. In addition, the bi-curved bows give pressure to all tines to maximum raking efficiency.
Moreover, tines apply light pressure for debris removal without damaging the plant feeder roots. Besides, a narrow head is great for working between closely spaced plants. Furthermore, the lightweight aluminum handle with an anti-slip vinyl sleeve can make the rake more efficient.
However, it is an ideal tool for quickly and easily raking up clipping, leaves, and other garden and lawn debris.
Sale
---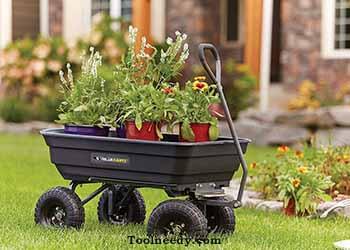 A Wheelbarrow is a multi-purpose tool. A wheelbarrow is a very useful tool for moving heavy and awkward gardening or any type of materials to move around your garden or playground. Needless to say, lump everything including your tools into your wheelbarrow and you can transport them around as you work.
A perfect, efficient, and quality wheelbarrow is Gorilla Carts GOR4PS Poly Garden Dump Cart. This cart has a nice feature which is it is a patented quick-release dump that helps you to unload and upload the dust or any materials quickly and easily. In addition, the improved maneuverability and ground clearance reduces assembly time.
Furthermore, this durable cart is 38.7-inch x 20-inch in size which has a rust-proof poly bed and 10-inch pneumatic tires. Apart from this, the padded pull handle makes it easy to pull up to 600-pounds.
Above all, this Poly Garden Dump Cart provides you a 1- year worry-free limited warranty.
---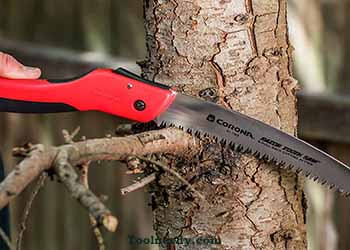 A very useful tool for gardening or cutting trees and shrubs is a Saw or a folding razor tooth Saw. Pruning the big branches of your trees a Saw is a required tool. There are a lot of sectors you can use a Saw.
One mentionable name for such a quality Saw is Corona Tools 10-Inch Razor Tooth Folding Saw. It is designed for single-hand use. The curved blade design helps to cut the branch smoothly and efficiently. Any branch of a tree that is up to 6″ in diameter can be cut easily and with bare effort.
However, the ergonomically designed Saw is truly comfortable in working. In addition, the co-molded handle provides a comfortable grip for extended use.
One of the most and amazing features is it is easy to latch blades that prevent injury, especially when not in use. Most importantly, the folding blade is curved, taper-ground, and replaceable.
Apart from this, the impulse hardened teeth are made long-lasting. So you can use it season after season. It is worth a shot.
Sale
---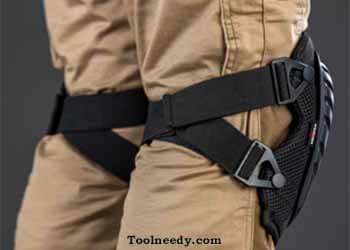 Gardeners or any worker needs to bend their backs and knees down frequently to do work. If you can pressure on your knees and do the heavy-duty work, the risk of pain would be less. This is why just get a garden kneeler or knee pads to protect yourself from pain and misery.
Such a knee pad is NoCry Professional Knee Pads. It has heavy-duty foam padding inside it. The comfortable gel cushion and strong double straps are great to work wear. Besides, the adjustable easy-fix clips are also good to wear the knee pads adjusting your knees.
The NoCry Professional Knee Pads is a premium tool that is designed in a thoughtful and protective way for your comfort and safety. It is made for both men and women.
However, when you are going to different types of work like concrete, linoleum and hardwood floors, construction work, flooring and carpet installations, welding, stocking shelves, tiling the roof, plumbing, remodeling, gardening, cleaning, mechanic work, crawling under the house with your installation tools, and others like these, this premium knee pads would save the day.
Sale
---
How to Identify Professional Gardening Tools
Choosing the best quality tools for gardening is one of the wise decisions you will make. Low-quality tools will end up breaking or damaging in a short time that wastes money. So, investing both the time and money in it should be worth it.
Identifiable factors of high-quality gardening tools
Plain Metal
A quality tool is always made of good quality materials, for example, plain metal. Galvanizing or painting on the metal may deceive you. Good gardening tools are usually made from very plain metal hiding nothing. So you need to be careful in choosing the right gardening tools for you.
Stainless Steel
In order to last long, rust-free, and sharp as always, stainless steel is all-time best for any tool. It is really tough, durable, and becomes free from rusting. This element should be the first priority to make the tools for any gardeners.
Forged Tools
Always try to choose a forged tool because these tools become study and strong and less likely to break than cast tools.
Wood Handle
Handles made of wood would be great for any gardening tool because they are strong and ergonomic.
Warranty
The warranty of a tool is really necessary for acquiring trust from the company. It is a certificate of mental peace. Besides, a warranty begets trustworthiness and earns trust. A 3 year or 5-year warranty can make you worry-free about the product.
However, quality tools are always worth buying with confidence. Still now if you are wondering why would I spend extra money on quality tools? Well, this is worth a shot to see through.
If you are thinking about why it's worth investing in quality tools, then let's go through some key reasons.
Saves time and energy
High quality tools are efficient and effective
Comfortable to grab
Handy and easy maintenance
Help to avoid aches, fatigue, pains, and injuries
Quality tools provide quality works
Whether you work for yourself or for anyone, the above points are undeniably true. For this reason, when you are going to work in a garden, professional gardening tools would be highly recommended. So, take your must-have tools with you to the work.
---
What Hand Tools Do I Really Need for Gardening?
Taking care of your garden, you need hand tools as well as power tools. In this part, we will discuss the most necessary hand tools for gardening-related works. A gardener without these tools is incapable of doing works properly. Planting, sowing, grafting, weeding, and a lot of other works are done with these tools. Well, what are those tools? They are –
Spade
Gardening knife
Rake
Hoe
Hand trowel
Hand fork
Sheers
Secateurs
Most of these tools come in different shapes, sizes, qualities, and designs. Before purchasing the tools, it is necessary to hold the tools to see whether it is comfortable or not. Besides, the most advantage to buying a tool in going a shop is you can see, test, and feel how it is and which one to pick.
Other Useful Hand Tools
If you are a professional in gardening or doing work in a field to harvest crops, some other special tools should be added to your arsenal. Here are some of the most useful hand tools –
Roller
Dibber
Pruning Saw
Paving Knives
Edging knife
Mattock
Hori Hori Knife
Hand Loppers, and
Some others
These hand tools are very essential to make your garden pruning, trimming, thinning, and so many other works. You can do grafting as well. Once you are experienced enough you will know all of these tools' use.
Which Hand Tool Brand is The Best to Pick?
There are many brands of the same products out in the market. You can choose any of them by considering their shape, design, and price. Let's see some of the reputed brands that you can trust.
Scuddle – Scuddle is one of the recognized brands for various kinds of tools and equipment. They produce different kinds of gardening tools as well as blankets, portable beach chairs, picnic baskets, backpacks, and other necessary items.
Radius Garden – Radius is a reputed brand too. They offer innovative and ergonomically designed garden tools set. The tools are economical to purchase and perfect for multiple chores in the garden and landscape.
The Gardener's Friend – The Gardener's Friend brand is an ideal solution for people with weak or mobility compromised hands. They produce garden-related tools. The tools work equally well with the right or left hand including the simple latch mechanism.
Fiskars – who uses gardening tools and doesn't know about the brand Fiskars is very rare. They manufacture various kinds of gardening tools. Besides these, Fiskars produce gardening and yard care, crafting & sewing items, kids & schools items, home improvements items, cooking items, and so on. They are very concerned about the quality of the products.
Patio Garden – This is another remarkable tool brand. They produce different types of tools for gardening. In addition, they cover home improvement tools, cooking tools, kids' stuff, outdoor activities equipment, and so on. They are also trustworthy and reliable.
---
What Power Tools Do I Really Need for Gardening?
Besides hand tools, power tools are very essential tools too for gardening. For any DIY project or for home improvement tasks, the power tools play a vital role. Mowing the lawn or yard, cutting big branches of a big tree, plowing lands, and many other works are done by these types of power tools. Let's see some of them.
Hedge cutters
Brush cutter
Strimmer
Motorized Scythe
Tree pruner
Tree trimmer
These tools are the common gardening power tools. They are very helpful and effective. It saves your energy and time. Besides, you can do the job quickly and comfortably.
Some Other Useful Power Tools
Apart from those tools, some other machine tools are important to do some specific jobs. These are heavy-duty machinery tools. They are –
Rotavators
Cultivators
Seed and fertilizer spreader
Turf cutter
Lawn aerators
Lawn scarifier
Which Power Tool Brand is The Best to Pick?
Some power tool brands are so trustworthy. They provide quality tools and warranty to gain your trust and confidence. These brands are already reputed for their quality products and unbreakable words.
Stihl – Stihl is one of the best-reputed brands in the world of power tools. They offer the best quality power tools for their customers. Stihl produces power tools like different types of Saws, home improvement tools, gardening tools, outdoor tools, and so on. Providing quality tools is their main concern.
DeWALT – This brand is recognized all over the world. They always try to focus on innovation and technology so that the products they produce are durable, handy, and lightweight. In a word, they intend to deliver the best quality products to the customers expecting zero complaints.
RYOBI – RYOBI is another great power tool brand to mention. Different types of innovative products production are their challenge. They cover home improvement tools and equipment, gardening tools, heavy-duty machinery, and so on. They are truly reliable.
BLACK + DECKER – This is a common brand in the tool world. You can find rare people who are involved in gardening or this related works. They cover the home improvement category, kitchen, and lifestyle, home cleaning, outdoor living, etc. Besides these, they try to produce other heavy machinery for heavy-duty works.
CRAFTSMAN – CRAFTSMAN is a very popular brand to the customers who buy gardening or other tools for them. They produce hand tools as well as power tools. Anyways, the brand covers outdoor power equipment, gardening tools, automotive tools, and so on. They are quite trustworthy and reliable.
---
Final Words
The must have gardening tools for gardeners are truly essential to keep your garden or lawn healthy and in good shape. These essential tool lists are highly required because without these arsenals you cannot take care of your garden. Choosing the right tools is also an important matter. So, pick the tools you need and wisely. A good tool can provide your good productivity.
---
Last update on 2023-09-27 / Affiliate links / Images from Amazon Product Advertising API