A patio weeder or patio knife is one of the most important gardening tools to take care of your garden. This tool is one kind of knife. When you failed to uproot grasses or weeds from the narrow space, a patio knife is an effective tool to do the job successfully. If you have a variety of gardening knives, a patio weeder must be one of them. A beginner gardener may not be comfortable due to its L style shape but once one is accustomed to it, they will be comfortable in using it.
Most patio knives consist of a sharp, 'L' shaped blade. Users may be unfamiliar at first using it but gradually it becomes easy and comfortable with the shape.
What Is A Patio Weeder?
A patio weeder or knife is one kind of gardening tool that is specially designed for weeding out from narrow areas e.g. between the pavers in the patio. To pull out weed from the congested crevice is so hard and to do this job a patio weeder is second to none.
However, you may have seen grasses and weeds that are growing between the stones or pavers that are truly difficult to remove from your back patio, terrace, or courtyard.
In a word, when you are being quite unable to uproot grasses or weeds from your patio or lawn without the help of some specifically designed gardening tools especially a patio tool that comes into mind first is called a patio weeder or patio scraper. A patio tool is also known as a crack weeder, patio knife, weeding knife, and other many names.
How to Use a Patio Weeder?
Wondering how to use a patio knife? Well then, do you know how to use a gardening knife? If you already know how to use a gardening pruning or trimming knife, you can easily use a patio knife as well.
First of all, what you need to do is use your instincts to use a patio knife. This one usually helps much to do any kind of difficult or easy job. Once you set mentally, half the work is done.
Then, push the blade into the soil between pavers and try to cut the root of the weed or grass. A little bit of pressure and the blade can scrape out the detritus.
Besides, a patio scraper is very useful to scrape the moss off the pavers. But in this case, a long-handled patio weeder is more effective, useful, handy, and comfortable than a short-handled patio weeder.
Types of Patio Weeder
Patio knives can be of different types. The most popular types of weeding knives are:
Long-handled patio knife
Short-handled patio knife
Telescopic patio knife
Electric patio weeder
Draper patio weeder
Patio weeders are very essential to uproot grasses, weeds, and unwanted plants. When other tools fail, a patio weeder can do the job done. Most people like long-handled patio weeders. A short-handled patio knife is popular too. Who doesn't want to lose any energy, electric patio weeder is for them.
Let's see some patio weeders here.
The 7 Best Patio Weeders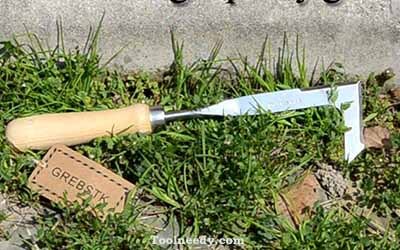 GREBSTK Crack Weeder Crevice Weeding Tool is undoubtedly a great tool for removing stubborn moss and grasses in between paving stones. This 13" long and 'L' shaped blade is for sod cutting in different directions.
The beech handle is strong and lightweight enough to handle and use this weeding tool easily and comfortably. In addition, the stainless steel blade is so sharp and hard that ensures long durability and abrasion resistance.
However, this crack weeder tool can be ideal for removing grass, moss, and weeds from gaps between paving. The crevice weeding tool can get in the tightest spaces with absolute precision. And yes, it is also perfect for lifting out smaller tap-rooted weeds intact. In a word, this patio scraper is sharp and the narrow blade can even rip up tough soil
---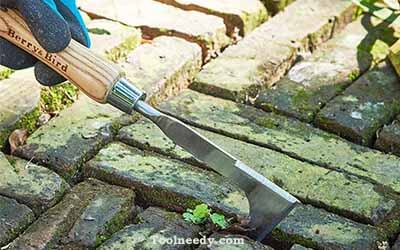 Berry&Bird Crack Weeder is an L-shape blade tool that is used for sod cutting in different directions. The ergonomic handle is comfortable and this tool is handy to use.
In addition, the seamless welding technology helps to make the tool smooth and strong. The metal part is made of polished stainless steel and this is why it is weatherproof. The main features of this tool are durable and lasting anti-corrosion.
The handle is made of FSC approved ash wood. It is designed in an ergonomic streamline that fits the natural shape of the hand when holding and using the tool.
Additionally, the wooden handle comes with a leather hanging rope so that you can hang it anywhere you want. This is also classic and durable.
The Berry&Bird Crack Weeder is ideal for removing grass, moss, weeds from gaps between paving and on walls.
Sale
---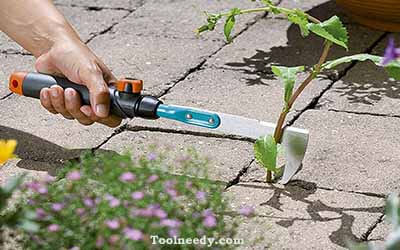 Gardena 8928 Hand Patio Weeder is a quality weeding tool. It is a rust-proof and durable tool for gardening. It is made of high-quality steel and has a sharp edge. The combi system allows you to do multiple works.
This Hand Patio Weeder is good for uprooting grasses, weeds, and any unwanted delicate plants. This tool is useful for removing grass and moss from sidewalks and brick walkways.
The Gardena 8928 Hand Patio Weeder Combi System is a great tool. It is really useful and helpful.
---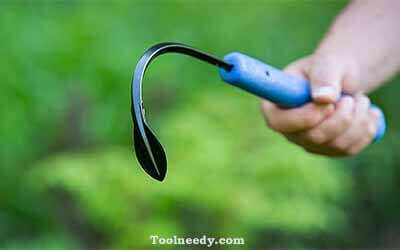 CobraHead tools have been developed from seasons of hands-on gardening experience. It is easy to use and handle. This classic garden weeding hand tool is great for green thumbs of all ages.
The CorbaHead weeder garden tool is made of a tempered steel blade. Gardeners love this tool very much because they can plow any hard soil with this curved head tool.
Besides, the cobra head weeding tool comes with a plastic handle that can be easily used by the left or right hand. So, this tool can be handled by one hand. This versatile tool is specifically designed for digging, edging, and planting.
You can trust it. Highly recommended.
Sale
---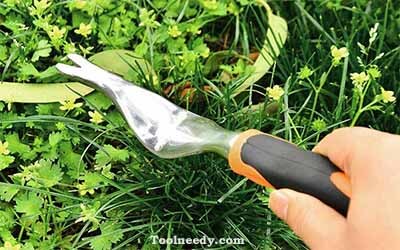 GANCHUN Hand Weeder is a garden weeding tool with an ergonomic handle. If you like to transplant gardening Bonsai, this tool is very helpful.
GANCHUN Hand Weeder Tool is made of premium steel that is easy to clean, rust-resistant, and always great-looking. This is why you can always find your tool sharpened and useful.
In addition, this is well-built, durable, and sturdy. It barely bends even after heavy-duty work. You can gift it to any garden lover.
Moreover, the ergonomically designed handle plays another important role in this tool. It provides a better grip which is important to work for a long time. This tool also reduces wrist and hand strain making gardening duties more comfortable and less tiring.
So, what can you do with this specific weeding tool? Well, you can do a lot of tasks like digging, cultivating, and transplanting faster, easier, and blister-free.
Additionally, the handle is ergonomic enough to store it properly even when not in use or off-season.
Sale
---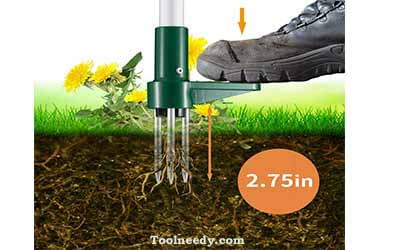 Walensee Weed Puller is a standup weeding tool for a better gardening experience. With this tool, you can get rid of unnecessary weeds without risking your back. Due to its long handle, this long-handled lawn weeding tool can perfectly save your back. You don't need to bend over or go down your knees.
However, the foot pedal allows you to put pressure on the gardening weed extractor in order to penetrate the soil, and then you can just simply uproot the grasses or weeds. This weeding tool is good for your garden, backyard, front yard landscaping.
The three 2.75" Steel teeth are strong and sturdy to get the work done nicely. It uproots the grassroots. It is also durable and high-strength material. Moreover, the Walensee Weed Puller is strong enough due to its durable stainless high-strength steel.
Apart from this, when you use this tool for a long time to uproot unwanted plants, it, unlike other tools, can cause you minimum fatigue. Besides, you will get a 100% money-back guaranty if you are not completely satisfied with your weeder tool.
---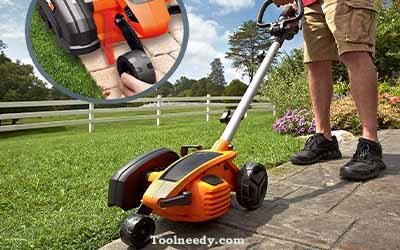 The WORX WG896 is a 12 Amp 7.5″ electric lawn edger and trencher. The long blades are fast and deep at 4700 revolutions per minute that amaze with professional-looking lines and edges.
In addition, the blades are able to pierce the ground at 1", 1-1/4", and 1-1/2" depending on the task at hand.
Moreover, one of the best features is that users of any size and height can adjust the length and make the comfortable position to work. The shaft and D-grip handle provide you best experience.
Furthermore, the WORX tools are designed with cutting-edge technology. So, it is undoubtedly a cost-effective tool that is engineered to last longer.
No products found.
---
Some More Tools in case You Need-
---
How to Choose the Right Patio Weeder?
There are many factors you need to check when you are going to buy a patio weeder. These unavoidable factors are essential to choosing the right patio weeder. Whatever the patio weeders are like long-handled patio knife, short-handled patio weeder, crack weeder, telescopic patio knife, patio scraper, draper patio weeder, electric patio weeder, or others, you must have to ensure some factors that we are going to mention.
Premium Materials
The first thing you should check is the materials. Some tools are made of normal and below standard materials and you will know it once you see or touch them. Without premium materials, your tools may be bent or damaged at any time even in the middle of the work. So, choose the premium material of the tools.
Handle
The handles of a weeding tool are so important too. If you intend to work for a long time, the handle can play an important role not by making you fatigue easily. Besides, a comfortable handle doesn't allow to strain at your palm. In addition, it helps you to balance between holding the knife and working. Furthermore, it allows easy wrist movement and reduces hand fatigue while working.
Whether it is easy to use or not
The patio weeder must have to be easy to use or it will be a pain when you work with this. Long-handle and ergonomic design tools are easier to handle and make the work done without any remarkable effort. So, pay your attention to this too.
Maintenance
Easy maintenance of a tool can provide many privileges. It would save your time, money, and energy if you can easily maintain it. Please remember, proper cleaning and taking care of your tools can ensure longevity and as like as new forever. It also makes them rust-free, sharp, and well-shaped. On top of that, it is vital to understand that taking care of these tools can help to make them last longer.
Warranty
Warranty is one of the most important features to check out when buying a weeding tool. Compatibility should be considered. As a new product can be difficult to assess instantly, a manufacturer's product warranty would be great.
---
Last Words
A patio weeder is an essential tool to weed out from the lawn, backyards, or sidewalks. So, knowing how to use a patio weeder would be helpful for any gardener. A quality tool can make you happy. Proper tools and equipment are the keys to getting the work done effortlessly and amazingly. You should pick a premium tool to do your job. We hope you found this article useful.
---
---
Last update on 2023-09-27 / Affiliate links / Images from Amazon Product Advertising API