Are you quite acquainted with different types of hammers and their uses? Among a lot of hammers, you need to find out the best hammers for your job though it is not always easy to find if you don't have adequate knowledge and experience on it. Choosing the best hammers is also an important matter too. Carpenters use hammers during working. They use different types of hammers like milled face, smooth face, framing hammers, and so on. We will now discuss milled face vs smooth face hammer. Knowing the difference between them is essential too.
Milled Face vs Smooth Face Hammer
Hammer users who are newbies always ask a question – milled face vs smooth face hammer – which one is the best to pick? Well, there are some features of their own and those unique features and quality distinguish themselves transparently. Besides, you must learn the best hammers so that you can enrich your knowledge. People often get confused in understanding between a milled and smooth face hammer. So, let's clear those confusions with examples and images.
---
What Is A Milled Face Hammer?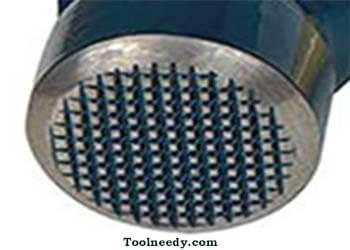 The hammer that has a full of patterns on its striking face in order to improved-nail grip is a milled face hammer. The patterns look like tiny pyramids though they may vary from a mellow set of concentric rings. A milled face hammer is also often called a checkered face or waffle face. This waffle head hammer helps users to hit accurately. Missing strikes rate decrease in a significant rate. This dimple face hammer is an awesome hammer tool.
What is a milled face hammer used for?
A milled face hammer can be used for multi-purposes. One can use this hammer for driving staples in pole-line work. The patterns on the striking face of the hammer are very useful. Hammers barely slip when struck on a nail. To work faster, safer, and more precisely, a milled hammer is second to none. If you are fortunate enough, you can get an MOA grip handle that absorbs shock and lessens sting even when nailing into the hardest materials like engineered beams. This waffle face hammer is used for driving nails, prying boards, demolition work, splitting wood, fitting parts and breaking apart objects, and many more purposes.
What brand of milled face hammer should I choose?
Well, you can find a lot of milled hammer brands out in the market. You have to choose your required one carefully. Estwing, Hart, Vaughan, Stanley, Dead ON, Dalluge, Stiletto, DeWalt, Milwaukee, or other brands, all of them are favorites to users. You just need to choose the best handle material. If you purchase it going to a shop, just touch, feel, and realize which one is the best for you.
Pros of a Milled Face Hammer
Ballistically balanced for maximum striking power
Barely slips off while striking
Extra gripping surface to catch and sink nails
Magnetic nail starter for rapid nail driving
The milled head does not bend the nail as often
Good hammerhead for framing
Faster, safer, and more precise
Effective and useful
Easy to beat in hard heads with the milled face
Doesn't make high-level noise when hammering down a nail
A very good item for giving gifts to husband, friends, or hammer lovers
Cons of a Milled Face Hammer
Can make marks on the surface
Honestly, the milled head does catch the head of the big nails better
A milled hammer head sometimes doesn't perfectly work on small nails better
Easy to leave marks on poles
Some hammers may not be remotely magnetic
---
What Is A Smooth Face Hammer?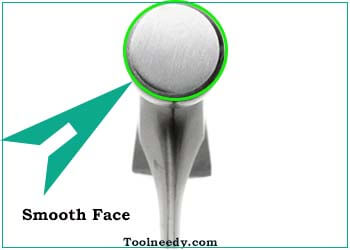 The hammer that has no patterns on its striking face is a smooth face hammer. It is just simple and plain. The face can be bigger or smaller depending on the size and weight. A smooth-faced hammer is good for framing and many other works. A good quality smooth face hammer is a perfect tool for using carpentry, plumbing, masonry, framing, and so related jobs. A rip claw hammer with a smooth face is a likable hammer to the professionals.
What is a smooth face hammer used for?
We have already learned about what is a smooth face hammer. It is a versatile tool for any user. A smooth face framing hammer is great for driving nails, prying boards, demolition work, splitting wood, fitting parts and breaking apart objects, and more. In addition, this smooth-faced hammer is ideal for roofers, carpenters, contractors, tradesmen, and others as well.
What brand of smooth face hammer should I choose?
Different kinds of works need different tools. Hammers are a common tool that requires in almost all fields. As there are many kinds of hammers, you have to choose the hammer the one that suits you best. Very common brands of smooth hammers are Estwing, Vaughan, Stanley, Dalluge, Stiletto, DeWalt, Milwaukee, and so many like these. Just hold the hammer and see how it fits your hand. The Hammerhead and handle of a hammer are the best part of a hammer. So whatever brand it is, make the best choice for you.
Pros of a Smooth Face Hammer
Great for maximum striking power
Magnetic nail starter
Beautifully polished and solid head for striking
Forged steel for maximum strength and durability
Various size and weight
No marking leaves on surface while working
A versatile hammer tool for every sector
Faster, effective, and safe to work
Ideal for driving nails, prying boards, demolition work, splitting wood and so on
Cons of a Smooth Face Hammer
May slip strikes sometimes
Harmful for an inexperienced hand
Most time nails bend for smooth face
Makes noise when hammering down a nail
Some hammers don't feature magnetic head
---
Milled Face vs Smooth Face Hammer: Which one to pick?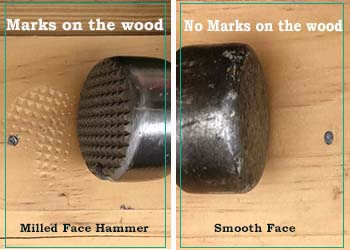 As a writer and reviewer, without analyzing your nature of work it is impossible to say which face hammer is the best for you. Both the milled face and smooth face have unique features that actually help to identify themselves. We have already discussed the features, pros and cons, and what are the hammer tools used for. So now you can read the above paragraphs and can acquire some knowledge and then perhaps you can be able to decide by yourself the best one suits you.
Well, nevertheless, if you are a framing carpenter, a dimple face hammer could be an edge for you if you are going to do a lot of toenailing. In addition, if your hammering skills are terrible and you can't honestly seem to hit the nail dead on, a milled face hammer helps. Entailing the earlier point, whatever design hammer either checkered face or smooth face you are using, the hammer's face will neatly be imprinted on the surface you are working on. This is why it is really tough to find many finish carpenters with a milled head hammer.
On the other hand, a smooth face is good to go with any job. Even a newbie can drive a nail with a smooth face. Yes, they need to be cautious but in a few moments, they will learn. This kind of hammer face tends to slip off but is not bad. Once one is good at striking accurately, this would be an amazing tool for them. In addition, another face of this smooth face is good for pulling out nails with a bare effort. So, this depends on you the one you should choose for your work.
Our Suggestions: Whatever hammer you are deciding to purchase, you should just add up a few dollars and get a contractor-grade hammer. It won't disappoint you as early as a cheap hammer does.
So, still, now thinking of the issue? Milled face vs smooth face hammer – it is really an issue to continue your thought unless you can reach a decision. Well, stop thinking much now because we are going to discuss much it.
---
What Else Features Do I Have to Consider when Choosing A Hammer?
If you are still on the debate on the milled face vs smooth face hammer, you need to focus on some other important issues. Those features are also essential to give a shot. Without prior knowledge may make you begrudge. So, let's dig more about the features we are on.
Handles
What kind of hammer handle is the best? Yes, it is a hell of a question to everyone's mouth. Better you know it and decide yourself. There are commonly 3 kinds of handles available. They are steel-handled hammers, fiberglass-handled hammers, and wood-handled hammers.
Nail Starter
This is one of the important features of a hammer. A nail starter is typically a groove and magnet that is able to hold a nail to let strike without holding a nail by fingers. This feature can keep you risk-free from damaging your fingers.
Wide Face
A wide-face hammer is good for a newbie. It will help users to catch the nail perfectly without fail. With every strike you make with this wide face hammer, there will be a greater possibility to hit on the nail. However, a professional doesn't need this kind of hammer because they can strike accurately and every strike succeeds.
Hatchet-style handle
To make an effective blow, a good handle plays the best role for it. When you are comfortable gripping the hammer handle, you can make your best strike. In this regard, a hatchet-style handle is recommendable to choose your hammer.
Anti-vibration design
Nowadays, an anti-vibration design hammer is available and it is directly related to the handles of a hammer. An ergonomic design hatchet-style handle transmits less vibrations that are good for your elbows as well as muscles. However, you are recommended to choose either fiberglass or a wood handle hammer because these handles can dramatically reduce vibrations.
Head Weight
The weight of a hammerhead matters to the users due to keeping proper balance and control. The balance between the head and handle of the hammer is so much necessary. Without evenly balance in them you cannot control the hammer as you wish to.
Rip hammer or claw hammer
Depending on the nature of your work you must decide which hammer is the best for you. Rip hammer vs claw hammer – which would be the perfect match for your job? Think a lot before buying your desired hammer.
---
Frequently Asked Questions
1.
Are Estwing hammers any good?
A good and quality hammer provides a comfortable grip, great balance, and a natural-feeling swing with every solid strike. This hammer is made of a single piece of steel that is almost indestructible. So, yes, Estwing Hammers are supposed to be good hammers.
2. How long is a framing hammer?
A framing hammer has a standard length. Framing hammers usually come in at a length of 17 and a half inches. However, guys who used a 16 inches handle may need some time to get used to it, but honestly, it is worth it.
3. What's a ripping hammer?
A rip hammer, also known as a straight hammer or rip claw, features one side of the hammer a milled or smooth face, and a claw on the other side. The curved claw provides leverage for pulling nails. The main feature of ripping hammers is they can rip apart easily any wood or board, or any breakable materials.
4. What is a trim hammer?
A trim hammer is a hammer that is a bit shorter and is a couple of ounces lighter than a framing hammer. However, the smooth face of this trim hammer can perfectly drive nails. Trim hammers are ideal tools for nailing deck surface boards and deck railing. It is true, the shorter handle and featherweight of this hammer tool are easier to handle to hit precise objects or nails.
6. What is a California framing hammer?
A California framing hammer has some unique features that can tell about itself. An extra-wide face of this hammer helps work faster and more efficiently. California framing hammers have a milled face to prevent missed strikes. It has hardwood handles for a comfortable grip and use.
---
Final Words
Got knowledge of the milled face vs smooth face hammer? It is truly essential to know and gather your knowledge about this topic. We will discuss Milwaukee's smooth face hammer, smooth face framing hammer in detail, and Powerstrike Hammer Review later on. For now, understanding milled face vs smooth face hammer perfectly is our mission. If you still have any questions, you can reach out through comments to us. So, we were able to clarify the topic of milled vs smooth face.
---