A hammer is the best friend to a carpenter, a DIY project manager, or anybody who works construction-related jobs. While you are working your job, you cannot pick any hammer you want. We usually find two types of working hammers of which one is a rip hammer and another is a claw hammer. Knowing rip hammer vs claw hammer would help you pick the right tool for your work. Claw hammers and rip hammers come in a variety of sizes and materials. This is why, choosing the right hammer for you, anyone should know the differences between a rip hammer and a curved claw hammer. A good hammer can be considered a must-have gardening tool too.
It's high time we learned about rip hammer vs claw hammer. So, let's know more about different types of hammers too.
---
What Is the Difference Between a Claw Hammer and a Rip Hammer?
A claw hammer and a rip hammer are very useful and helpful, especially for carpentry-related jobs. Driving nails as well as pulling out these are great tasks for a carpenter while working. Tearing up wood or any materials and fixing it with driving nails makes its usefulness completely. So knowing more about rip hammer vs claw hammer and the differences between a rip hammer and a claw hammer is important. Let's now know about them and their pros and cons.
---
What is a Rip Hammer?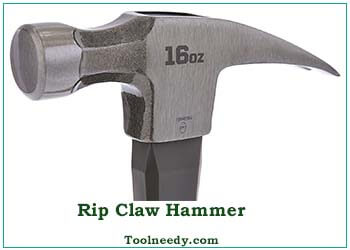 A rip hammer is also known as the straight claw, or rip claw which is used to do for heavy-duty working like framing hammers. It is named due to its nature of ability. A rip hammer is generally used for framing and ripping construction tasks. It is also flatter than a curved claw hammer. So a rip or straight claw is so effective for tearing up a hunk of wood without a big effort. A rip hammer is able to rip any wood apart in a pry-bar-like action. So, it is necessary to know about the best hammers that suit you?
A straight hammer is a name of destruction. Oh, it sounds nefarious but you need to know, a straight claw hammer uses are meant for different applications like drywall, plywood, siding, or whatever else you need to tear apart. Any professionals choose a straight claw hammer for their job.
Pros of a Rip Claw Hammer
Great for driving and removing nails
Good for general carpentry
It can effectively rip out boards or wood
Mostly ranges from 16 to 25 ounces
Variety of sizes and materials
Wooden, fiberglass or steel handle
Ergonomically designed and versatile
Effective, useful, and durable
Cons of a Rip Claw Hammer
A steel rip claw hammer transmits vibrations that can cause pain your elbows and muscles
Due to its weight, you may be exhausted in a short time
Rip claw hammers are expensive
---
What is a Claw Hammer?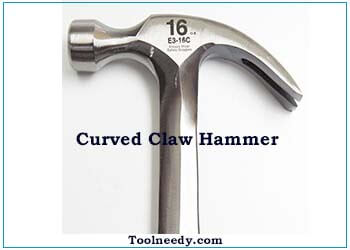 A claw hammer is also known as a curved claw hammer. A curved claw is an essential tool especially you are working on any carpentry or construction-related job. A claw hammer or a curved claw proves itself better leverage when you are pulling out nails. This can also be found on lighter finishing hammers. The specialty of this curved hammer is to pull out nails from wood or any materials.
In addition, a claw hammer is a versatile as a straight or rip hammer. As having two faces, you can use one side for pulling out nails while another side can be smooth which is good for driving nails or fitting any object or materials. Being a versatile tool, a curve hammer is really great for users. So, everyone should choose the tool or hammer carefully. If you don't know how to choose it, study and read more about it.
Pros of a Claw Hammer
A versatile tool
Perfect for pulling out nails
Smooth face can drive nails
Affordable price
Comfortable and durable
Pulling out of nails, it doesn't need any spacer
Great for finishing tasks
Doesn't mark accidental scar on surfaces when removing nails
Cons of a Rip Claw Hammer
Cannot be done heavy-duty tasks
Hard to crawl around tight spaces
Handles made of wood tend to break
---
Rip Hammer vs Claw Hammer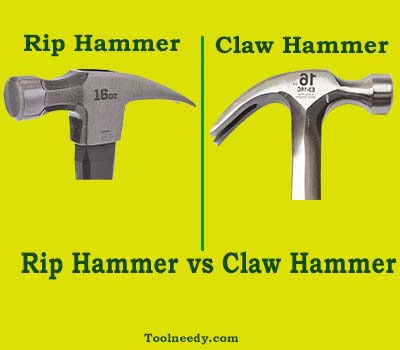 To know more about rip hammer vs claw hammer, we would like to pull some strings so that the view becomes clear. Some features that these two types of hammers bear are great and we are going to discuss that. Let's dig deeper.
Nature of Works of Rip Hammer and Claw Hammer
A rip hammer or straight hammer is quite competent for framing and ripping construction-related works. In addition, it can divide wood blocks and cut off protrude broad edges. Besides, tearing down drywall is another great quality for a rip hammer. Moreover, a ripping claw hammer is good for digging shallow holes.
While, on the other hand, a curved claw hammer is great for pulling out nails from wood or any materials. Due to its curvedness, a claw hammer is able to apply pressure to pull the nails out from the materials.
The shape of Head
Both rip hammers and claw hammers have wide faces. These wide faces help users to strike on the nails so that it doesn't miss. Both of them are good for the novices.
However, a rip hammer is straight and good for ripping wood or other materials. As it is not that curved it can protrude broad edges and no obstacles come into it. The other side is good for framing, or construction.
A curved claw hammer, on the other hand, is good for making frames with a smooth wide face side while the curved side helps users pull out any difficult nails from wood or any materials.
Claws
The claw of a rip hammer is flatter than the other hammers like curved claws or framing hammers. However, this claw can perform for dual purposes.
A claw hammer or a curved hammer is curvier than a rip claw. The claw of a curved hammer pulls out any nail successfully and effortlessly.
Handles
Handles made of rip hammers are ergonomic and comfortable. Most times, a rip hammer's handle is long and it is like a hatchet-style handle. One of the most important features of the handle is they are thoughtfully designed for anti-vibrations. Steel, fiberglass, and wood-handled rip hammers are available.
On the contrary, the handles of a curved claw hammer are also modern and ergonomically designed. Modern manufacturers try to produce anti-vibration handled-hammers so that users get relief. In this case, three of them like steel, fiberglass, and claw-handled hammers are available too.
Length
A rip hammer's length can be 13 to 14 inches. This kind of hammer is able to perform heavy-duty work more than a curved hammer.
In contrast, a claw hammer is usually 11 to 13 inches. It can do a lot of works. This tool is good for finishing works.
Weight
A rip hammer weighs 12 to 20 oz. which is good for medium to heavy-duty works. It can rip out hunks of wood and related materials.
While a claw hammer weighs 14-18 oz. It performs well for finishing and other frame-making tasks.
---
Frequently Asked Questions
1. What type of hammer is used for rough framing?
A rip hammer also called a framing hammer or straight hammer is good for rough framing. This type of ripping hammer is used for making frames or anything like this. Unlike curved claw hammers, the claw is straight. The handles are longer as well. This heavier rip hammer has a rough or waffle face and keeps the head from slipping when driving nails.
2. Do I need a framing hammer?
A proper and quality hammer is needed when you are framing a shop or a building. This is why a framing hammer is badly in need. A good framing hammer, apart from the regular claw hammer, features some special qualities such as extra weight, a longer handle, and a serrated face. And yes, a framing hammer hardly slips off of nail heads.
3. How heavy should a framing hammer be?
Normally, 20-32 ounces framing hammers are used for framing wooden houses. With the help of a rip hammer, you can do these heavy-duty works. In addition, you can use a 12 to 16 ounces (340 to 454 grams) hammer for titanium heads.
4. How much does a hammer cost?
The usual cost of a steel or fiberglass handled hammer is from $10 to $30. But when it is about a titanium head hammer, it can even cross $300. According to your need, you can buy one at an affordable price. Different types of hammers have different prices. There are many kinds of hammers such as rip claw hammer, curved claw hammer, framing hammer, shingler's hammer, drywall hammer, ball peen hammer, bricklayer's hammer, rubber mallet hammer, drilling or engineering hammer, sledgehammer, and so on. The price of each hammer differs from one another. Amongst them, titanium head hammer costs more.
5. Are Estwing hammers good?
Any hammer that delivers some quality features such as a comfortable grip, great balance, and a natural-feeling swing with a solid strike is a good hammer. In this way, Estwing hammers are truly great for carpenters or any other professionals. This is such a hammer that is almost indestructible.
---
Final Words
A rip or straight hammer is a very helpful hammer for any professional. Once you know well about rip hammer vs claw hammer, you will know which one to choose for your job. Knowing all types of hammers brings additional quality to you because this knowledge helps you choose the right tool for you. Curved claw hammers, ripping claw hammers, framing hammers, and other hammers have their unique features. Before buying you should hold, touch, and feel the hammer and then pick the best one that suits you.
---