Hammers are one of the important tools to complete your arsenal. A carpenter or a plumber needs a hammer as an essential tool. When you are trying to make a perimeter with a fence, a hammer tool is required. So it is a gardening tool too. There are many kinds of hammers out in the market. Depending on the nature of your job, knowing different types of hammer and their uses is an important matter too. If you know more about this, you can easily choose the best hammer for you. Besides, to know about the best hammer tools, read this whole article.
In this article, we will discuss 21 different types of hammer and their uses. So, have patience and stay with us.
---
21 Different Types of Hammer and Their Uses
There are a lot and different types of hammer out in the market for different purposes. We are trying to show 21 different types of hammer and their uses. You can learn from here. There are other sources too to know more. Let's dig deeper and know about various kinds of hammers and their uses.
Related Articles
---
1. Claw Hammer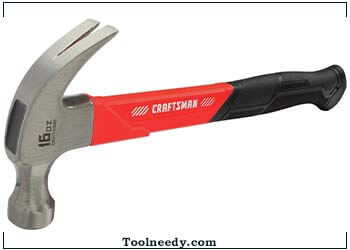 A claw hammer is the most popular and common hammer in the market or a nearby tool shop. This kind of claw hammer is a curved and forked claw located at the back. Claw hammers are amazing at pulling out nails. However, its versatility and overall use make a significant contributor to its popularity.
A recommended claw hammer is CRAFTSMAN Hammer. It is a 16 oz. fiberglass-handled hammer. This CRAFTSMAN hammer is durable enough to last long. This hammer has an over-mold grip which is great for driving and pulling out nails.
2. Rip Hammer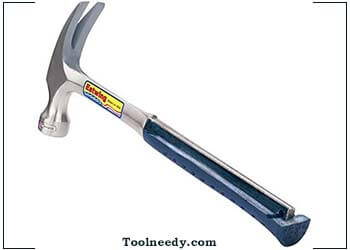 A rip hammer is also known as the straight hammer is the most favorite to the professionals. As they are experienced, they need to rip apart any wood or materials. This rip hammer has two heads too. One of them is a wide face and smooth head which is perfect for tearing up any hunk of wood. Ripping up any material is its main specialty. A rip hammer is flatter than a curved claw hammer.
One of the best rip hammers is the Estwing 20 oz Straight Rip Claw Hammer. This hammer offers a smooth face with a shock-reduction grip. The best specialty of this Rip Claw Hammer is that the head and handle are forged in one 1-piece. And yes, you would be happy to know that Estwing Rip Claw Hammer is made in the USA.
3. Ball Peen Hammer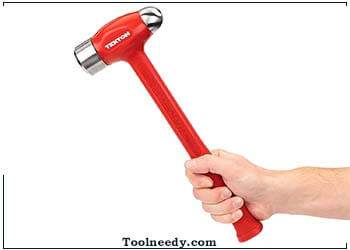 Most engineers pick ball-peen hammers for their own work. The unique and recognizable difference between a ball-peen hammer and other types of hammers is its pein is rounded. This hammer tool is used for different purposes. You can use this tool for closing rivets and shaping metals. The name 'Peen' has come from a fabrication method known as "peening". The nickname Peen means "a machinist's hammer."
Such a recommendable ball peen hammer is TEKTON Ball Peen Dead Blow Hammer Set. It is a 4-piece set that is 26, 36, 47, and 50 oz. This hammer is covered with a thick outer jacket which is made from hot cast polyurethane. This process ensures high resistance to chipping, cracking, and tearing. In addition, the contoured handle with its textured surface provides a comfortable and nonslip grip for hammering for a long time.
Moreover, the striking face is made of 4140 Chromium-Molybdenum steel, hardened to HRC 52. However, this flat striking face is ideal for driving punches or cold chisels, flattening sheet metal, and aligning heavy parts for assembly or welding.
4. Club Hammer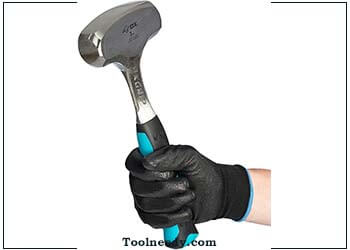 A club hammer, also known as a lump hammer, features a short, double-sided head. The club hammer has a similarity to a sledgehammer. Club hammers are mostly used for driving masonry heads and steel chisels. However, it can do some light demolition work.
If you want to buy a club hammer, OX Tools 3lb Club Hammer would be a good one club hammer. This OX tool is designed for heavy-duty striking work. In addition, a non-slip grip handle with shock reduction reduces vibration. It also provides comfort for all-day use. As the face of this hammer is large the striking accuracy is great. Above all, the high-quality one-piece steel construction provides increased strength and durability.
Besides OX Tools 3lb Club Hammer, you can try GEDORE 620 E-1500 Club Hammer or Estwing Sure Strike Drilling which is the most popular.
5. Dead Blow Hammer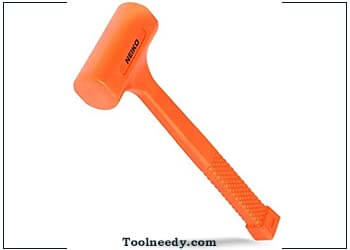 Unlike ripping hammers, a dead blow hammer is usually used for soft blows and minimal recoil. It hardly bounces back after striking the object. However, the head part of the Dead Blow Hammer is made from plastic or solid rubber. In some cases, the head can be a semi-hollow which is filled with lead shot or sand. The most using areas of this hammer are in automotive applications or woodworking. Dislodging parts, knocking wood apart or together, or fixing small dents without marring the surface are the perfect examples of its using fields.
One of the aesthetic and quality Dead Blow Hammer is NEIKO 02847A 2 LB Dead Blow Hammer. The head of this tool is a filled-up steel shot that adds extra force to hammer blows. In addition, it eliminates rebound & spark. The Neon Orange bright color helps to locate the tool and differentiates it from other hammers in your tool kit.
6. Framing Hammer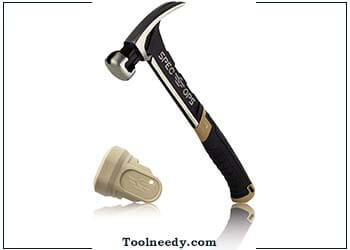 A framing hammer is like a rip hammer. Framing hammers feature a waffled head and a straight claw just like a rip or straight claw hammer. This hammer is a master of making any kind of frame and the name is worth it. Assembling a house or any frame is the primary function of this tool. In addition, the waffled face of this framing hammer minimizes slippage when driving nails. One drawback of this tool to mention is that while driving nails, it tends to mar the surrounding wood.
If you want suggestions for a framing hammer, the Spec Ops 20 oz. Nailing Hammer would be great. This Spec Ops 20 oz. has a 25% lighter head for sniper-controlled swing. It is also ballistically balanced for maximum striking power, shop absorbing, MOA grip for precision accuracy, and includes a Santoprene rubber mallet cap for non-marring protection. Most importantly, there is a magnetic nail starter for rapid nail driving.
7. Rubber Mallet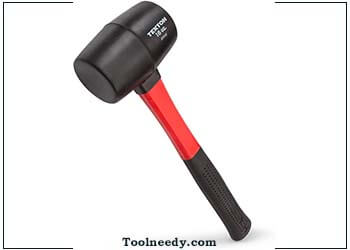 A rubber mallet is a hammer that is used for general use. This kind of tool is very lightweight as well as affordable. A rubber mallet is cheaper than a metal mallet. It is also safer to use. Rubber mallets are designed to handle and control soft blows. You can use a rubber mallet for doing work in woodworking, upholstery, and sheet metal.
We can recommend such a rubber mallet is TEKTON 16 oz. Fiberglass Handle Rubber Mallet. It has a double-faced solid rubber head that can deliver a softened positive strike. The high-strength fiberglass absorbs vibrations and the exterior poly jacket protects the handle core from missed strikes. It is ideal for construction, woodworking, and automotive applications.
8. Sledge Hammer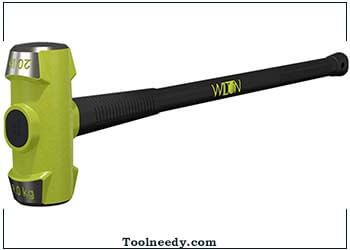 A sledgehammer is one of the most useful hammers. It is commonly used for breaking walls, driving stakes, or breaking up masonry and concrete walls. A sledgehammer is an excellent demolition tool. The main features of this hammer tool are a long handle and a metallic, double-sided head. It looks like that of a mallet. Seeing this tool you will understand, it's been designed for fierce and heavy blows. The constructive design is solid too. Very dim possibility to break the hammer.
Such a nice, solid, and heavy-duty hammer is Wilton B.A.S.H 36″ Sledge Hammer. This hammer is 36" long and 20 lb. weight. Its vulcanized rubber handle is a non-slip secure grip for striking.
9. Tack Hammer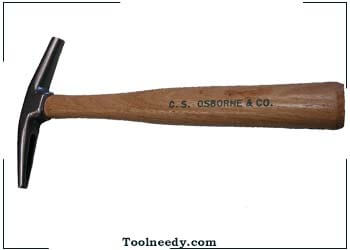 A tack hammer features a long double-sided claw-like head. It also has a magnetized side. Some people know this tack hammer as an upholstery hammer. A tack hammer can be used for building upholster shops, framers, finishers, roofers, carpentry-related works, and so on. Contractors and serious DIYers use this hammer tool frequently. It lasts a lifetime.
Well, such a recommendable tack hammer is C.S. Osborne Magnetic Tack Hammer. You can trust this hammer. Well-built and fantastic design. That simply is the best proves it. This Osborne Magnetic Tack Hammer is well-polished, magnetic. In addition, this smooth face tack hammer is good for holding and setting tacks for one-handed, fast, accurate, and convenient nailing. However, it is the ultimate tool for a DIY project manager.
10. Blacksmith Hammer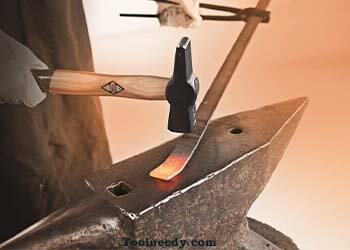 One of the most common hammers is a blacksmith hammer. Though its name is a blacksmith hammer it is used in almost all sectors because this tool is an effective tool. But, it is true that all blacksmiths use this tool for their specific job. To flatten or shape metals, a blacksmith hammer is second to none. However, the blacksmith hammer has a great similarity to a sledgehammer. The features of this hammer are the length of its handle and the slightly-tapered second head. It is a master tool of being used to shape white-hot steel.
A good blacksmiths' hammer is Picard Blacksmiths' Hammer. This hammer tool weighs only 2 pounds. It has a hardened wide face and cross peen. In addition, the hickory handle makes it fantastic too. Picard Blacksmiths' Hammer is a high-quality German-made professional-grade tool.
11. Brass Hammer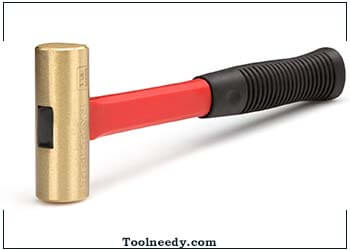 A brass hammer has a thin and cylindrical double-faced non-sparking solid brass head. It doesn't damage the surrounding surface of steel or iron parts. This useful hammer is commonly seen in woodworking or automotive shops. Ergonomically designed, strong, and comfortable to use.
If you are looking for a brass hammer for your automotive shops, you can take a look at the TEKTON 16 oz. Jacketed Fiberglass Brass Hammer. This hammer has a high-strength fiberglass handle protected by an impact-resistant poly jacket that provides a non-slip and comfortable grip. The TEKTON Jacketed Fiberglass Brass Hammer has a permanent head-to-handle epoxy bond that is almost impossible to loosen over time. You can trust this brass hammer tool.
12. Blocking Hammer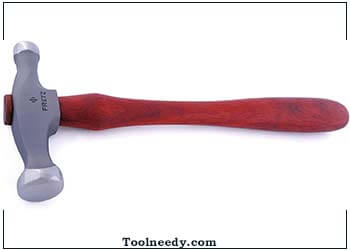 Between the two heads of a blocking hammer, one head features a cylindrical shape while the other is a flat square shape. Blacksmiths, metalsmiths, and jewelers usually use this kind of blocking hammer to shape metal on an anvil or on a block. It is a favorite tool for metalsmiths.
A quality blocking hammer is Fretz HMR-106 Blocking Hammer. This hammer is good for using to sink metal into a form or a sandbag. Between the two heads of the Fretz HMR-106 Blocking Hammer, one is the large embossing HMR- 104 ball and the other one is the curved end of the Planishing Hammer HMR–101. The Fretz Blocking Hammer is perfect for blocking bowls or large jewelry shapes while leaving the domed surface relatively smooth.
13. Brick Hammer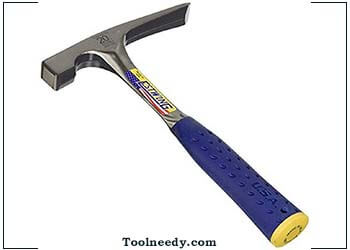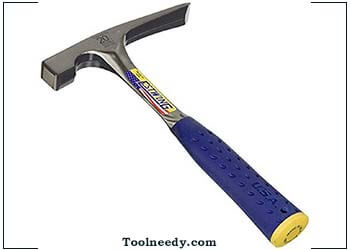 A Brick Hammer or a Bricklayer's Hammer is supposed to use to break bricks or stones. One side of this brick hammer is a hammer claw that serves as a chisel for scoring, while another side of the hammer is a narrow head that can split bricks. So, it helps to split bricks first and then make them small with the other wide face. However, a brick hammer is also known as a masonry hammer.
Such a good brick hammer is Estwing – E3‐20BLC Bricklayer's Hammer. Weighing only 1.7 pounds this Estwing bricklayer's hammer is the most durable and long-lasting hammer. This brick hammer is ideal for stonemasons, bricklayers, geologists, quarry workers, carpenters, contractors, tradesmen & serious DIYers. The comfortable, durable, and shock-reduction grip are able to reduce impact vibration by 70%.
14. Hatchet Hammer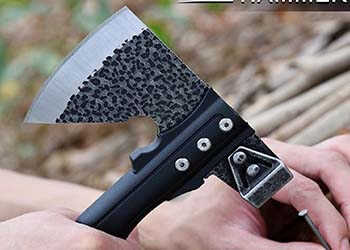 A hatchet hammer is one of the most important basic bushcraft gear for surviving. If you like camping. Some essential bushcraft gears you need to take with you and this hatchet hammer is one of them. Clearing and cutting branches of the tree and making any frame to make shelter, this hammer is second to none. On one side it has a sharp blade while on another side a nice and effective hammer.
An amazing and fantastic hatchet hammer is AIETOL Camping Axe. This camping ax hammer is a great fiberglass nylon handle. This camping hatchet with bolts is for better stability, reliability, and durability.
15. Drywall Hammer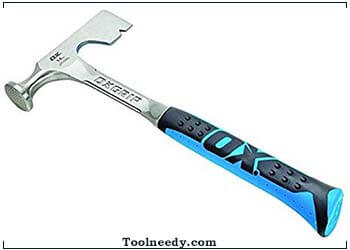 A drywall hammer features a straight peen and a specialized end that is as similar as a hatchet. However, there is a notch at the bottom. This notch is supposed to hold nails in place without making any damage to the drywall paper. The pein blade helps to remove excess bits of drywall.
A good quality drywall hammer is OX Tools 14 oz. Drywall Hammer. This crowned and scored hammerhead reduces the chance of impact marks on the plasterboard. A non-slip grip handle with shock reduction works well.
A drywall hammer is so essential for smashing a wall or brick wall. Besides this, it is a versatile hammer tool for professionals.
16. Cross Peen Hammer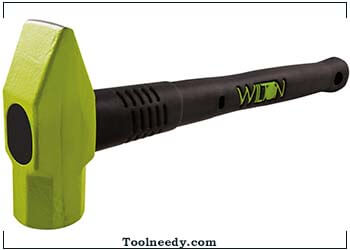 A cross peen hammer is an important hammer tool. The pein of this cross peen hammer is like a wedge and horizontally aligned. It is also used to shape metal like a hammer of a blacksmiths' hammer.
Wilton B.A.S.H Cross Peen Hammer is one of the best cross peen hammers. Weighing 2 pounds and a 16-inches handle makes this hammer comfortable to use for the users. The unbreakable handle technology eliminates breaking during overstrikes. In addition, Hi-Vis, drop-forged 46 HRC steel head endures the most demanding applications. Most importantly, the tapered design eliminates vibration from striking.
17. Bushing Hammer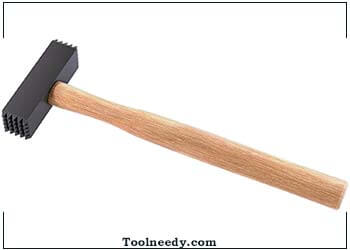 A bushing hammer simply looks like a meat tenderizer. The double-sided toothed heads are rough surfaces. A stone or hard material can be roughly textured with a single blow of this hammer. It looks destructive and seems ready to do anything.
One mentionable good bushing hammer is Bon 11-807 2-Pound Steel Toothed Bush Hammer. This Bon Tool weighs only 2.2 pounds measuring dimensions of 14.5 x 5 x 1.25 inches. This tool is exceptionally strong. However, this dense steel hammer has 25 teeth (5 x 5) that are carefully milled. A 16-Inch wood handle will help you grab comfortably.
18. Prospector's Hammer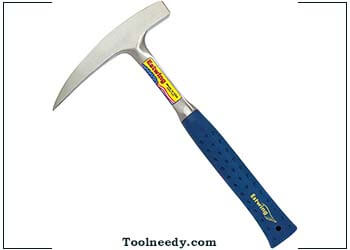 A prospector's hammer also known as Geological Hammer is a favorite hammer tool of geologists. This hammerhead features a flat smooth or textured striking face. One of the sides is the peen taper that looks like a single spike-shaped claw which proves very useful during complex groundwork. Anyways, the handle of this tool is made of fiberglass which is short and engineered to minimize hotspots while maintaining a comfortable grip.
This kind of quality prospector's hammer is Estwing Rock Pick. It is a 22 oz. Geological Hammer. One of the most durable and long-lasting geologists' hammers. This hammer is able to crack open rocks and hammer to drive chisels. Made in the USA and most importantly, this hammer tool is comfortable, durable, and reduces impact vibration by 70%. It is the most chosen hammer to the rock hounds, prospectors & contractors.
19. Meat Tenderizer Hammer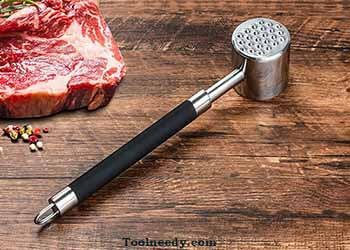 A meat tenderizer hammer is one of the most important kitchen tools for cooks. This tool looks like a bushing hammer tool. A tenderizer hammer is able to mash meats perfectly as you want. This mallet tool is a pounder for tenderizing a steak, beef, poultry, and other meats as well. It has a heavy-duty construction with comfort grip handle.
Such a tenderizer hammer tool is Meat Tenderizer Hammer by JY cookment. The double-side meat tenderizer mallet-style doubles your options. The textured side of the hammer is great for making perfect, tender, juicy steaks while the flat side is for pounding filets thin. Very perfect for a professional chef. The perfect weight is good and easy to control the tool. Moreover, this hammer is made of high-quality stainless steel. Most importantly, it is dishwasher safe.
20. Gunsmithing Hammer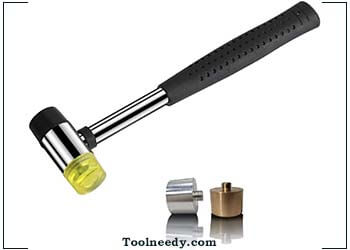 A Gunsmithing Hammer is a required tool for repairing or setting guns. The name explains its nature. It is an interchangeable tool too. You can change any part of the hammerheads namely rubber, nylon, brass, and aluminum when needed. This rubber mallet hammer provides a different hardness to avoid injury and reduces recoil. The gunsmithing hammer is really good for gunsmiths.
One recommendable gunsmithing hammer is Marketty Gunsmithing Hammer. This tool is a nylon face of the brass hammer which is non-marring and great for alignment. Made of high-quality materials and the hammerhead is replaceable. This gunsmith hammer is for professionals to repair and maintain guns or other instruments. However, the brass face is used for driving pins and punches. The Marketty Gunsmithing Hammer is ideal for jewelry, wood, gunsmithing, furniture assembly, and many more.
21. Welder's Hammer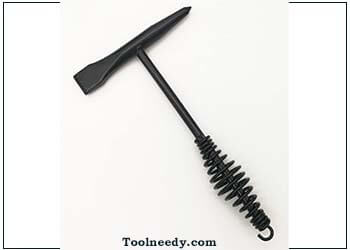 A welder's hammer is completely different from other tools in appearance. From handle to head, this tool is an art and a reminder of the bygone days. However, this amazing and specialized tool is used to remove waste material. The pointed head and the weld head, both heads are useful to remove waste materials. You can store this tool easily with the hung hole on the end of the handle.
Such a beautiful welder's hammer is VASTOOLS Welding Chipping Hammer. The coil spring handle looks amazing too. This hammer is made of high carbon steel materials for maximum strength. However, the reason for the spring handle is that it can absorb the shock of contact while cleaning and shipping way welding debris. The Welding chipping hammer and steel wire brush are a good combination to clean and remove slag from all your welds.
---
Final Words
A hammer is an essential tool for every carpenter or professionals. So knowing different types of hammer and their uses is an additional quality to become an expert in any profession. Enriching knowledge would make you knowledgeable and smarter. You can choose the right tool if you gather knowledge more. Here we have discussed 21 different types of hammer and their uses and you can still know more about other hammers from different sources. Know and acquire knowledge more and get smarter.
---