Utility knife blades are essential tools in our daily life. From kitchen to construction sites, everywhere utility knives are used. Do you want to cut any materials? Well, a utility knife would be the best tool to solve your problems. On one side, utility knife blades are small in size and, on the other side, they are affordable, portable, and cheaper in price. But we all don't know more about the different types of utility knife blades. You may have already seen all types of utility knife blades we are going to discuss now. So, let's see the different kinds of utility knives and blades with images.
---
Types of Utility Knife Blades
There are 6 known types of utility knife blades. They are:
Scalloped Edge Blades
Serrated Edge Blades
Pointed Tip Blades
Rounded Tip Blades
Snap Off Blades
Hook Blades
We use utility knife blades every day and we may not know what are they called. These different types of utility knife blades are used for different purposes as they perform different functionalities.
Besides utility knife blades, there are also different types of box cutters and blades that we already know of. However, in this 6 different types of utility knife blades discussion, we will learn all 6 types of utility knife blades.
Different Types of Utility Knife Blades
One by one we are going to discuss the types of blades of utility knives. They are all strong and sturdy. The knives come in different shapes and designs. Easy to use. You will love it. So, let's get started.
1. Scalloped Edge Blades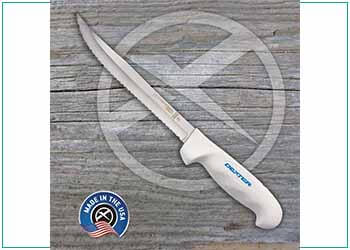 Scalloped Edge Blades are commonly used in the kitchen. This kitchen knife is great for cutting vegetables like tomatoes, cucumbers, etc. Chefs use this scalloped edge blade to cut fish. Besides, it is used in factories to cut Styrofoam. Due to this kind of blade, all the little balls remain intact and reduce enormous mess potential. This blade cuts really smoothly and cleanly. You can find differently shaped and sized smooth edge blades in the market.
A good and recommended Scalloped Edge Blade is the Dexter-Russell SG142-8TE-PCP Soft grip Blade. This tiger edge scalloped blade is ultra-sharp. It can cut through anything including frozen bait. Moreover, this blade is stain-free. The handle is non-slip and soft to the grip. Mostly used by professional fishermen. The product is made in the USA.
2. Serrated Edge Blades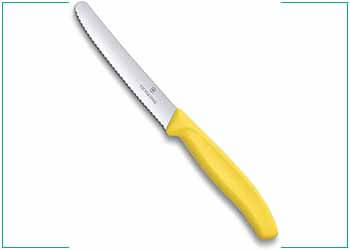 The serrated edge blade is an amazing utility knife for cutting through dense materials. A serrated edge blade and a scalloped edge blade are no different in terms of design. What makes them different is the style of cutting or chopping materials.
The serrated edge blade is used in a sawing motion while people use the scalloped edge blade for slicing. As you have seen in the picture, serrated blades have rougher edges than their counterparts. The design provides not only protection for the user but also allows for a safer cutting experience with dense materials.
Speaking of the length of a serrated edge blade, they range from 4-7 inches. We know the blades longer than 7 inches is specialty blade. However, these kinds of blades are available in both wood chisels and in carpet knives. Usually, the long knives are good for cutting carpet and vinyl flooring. Besides, they can be useful in slicing a variety of foods such as bread.
If you want to know such a serrated edge blade, Victorinox Swiss Classic Utility Serrated Round Blade is one of the best of them. This knife is really dependable, sturdy, and easy to carry. You can use it for everyday use. And yes, it is a Swiss-made precision.
3. Pointed Tip Blades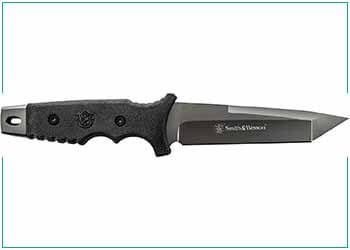 Pointed tip blade features a very sharp pointed tip. This pointed tip requires to puncture something before continuing a cut. There is a wide range of sectors such as fabrics, flexible plastic, and drywall where this kind of blade is needed. These pointed tip blades are commonly seen in most houses.
Due to the sharp-pointed tip, this blade is very useful to puncture and then cut easily. While other blades may not be suitable for cutting flexible plastic and drywall, this blade is truly helpful.
Such a useful and potential pointed-tip blade is the Smith & Wesson 10.6in High Carbon S.S. Fixed Blade Knife. The 10.6-inch overall length with a blade length of 5.2 inches, this Tanto tip blade is made of reliable 9Cr17MoV high carbon stainless steel. In addition, it has a black TPE handle.
Due to its thickness, many heavy-duty jobs can be done. So it is dependable too. You can use it for tactical, survival, EDC, or as the basic bushcraft gear while you are going camping or hunting. It is quick and easy to access with the convenient ambidextrous and thermoplastic sheath.
4. Rounded Tip Blades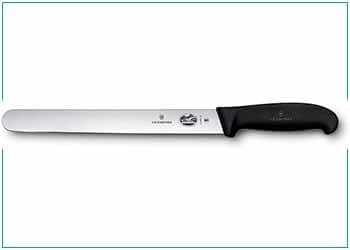 A rounded tip blade is a very versatile slicing knife that can carve roasts, poultry, and fish faster. These blades are used when you don't need to puncture anything but a slice. Rounded tip blades are relatively new types of blades compared to pointed-tip blades. You can also slice wood and rubber if you want.
However, a well-known and one of the best-rounded tip blades is Victorinox-Swiss-Army Slicing Rounded Tip Knife. This knife is crafted with high-carbon stainless steel. The materials ensure its long-lasting sharpness. However, this long and narrow shape and a razor-sharp edge blade are highly durable and have a smooth slicing motion. This rounded tip blade features an ergonomic Fibrox Pro handle for a non-slip grip. And this exceptional knife is weighted and balanced for easy handling and comfort.
5. Snap Off Blades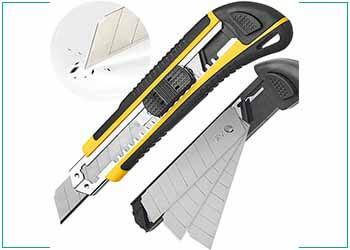 Snap-off blade is one of the coolest blades. This type of blade was invented in 1956 by a Japanese Manufacturer called Olfa Corporation. The fun part is the concept of a snap-off blade grew by how one snaps a piece of chocolate off of a chocolate bar. They applied the same design which was so much popular in a few days.
The snap-off blade is designed with multiple seams allowing you to snap off the front segment in order to use the next segment as a new blade. Easy and time-saving.
The blades are made of stainless steel which makes them incredibly durable. Snap off blades are able to cut through thick insulation with ease and this is why people like this type of blade very much. It is safe to use and easy to carry in your pocket. You can take this utility knife wherever you go.
DOWELL Snap off Utility Knife is one of the most popular and best snap-off blades. It features an 18mm SK5 blade that is durable, razor-sharp, and retractable. The auto-change mechanism is the best part to love it most. Well, simply push the button back to the bottom, push up and the blade will be self-reloaded. How easy it is! Besides, the anti-slip handle and storage mechanism of this utility knife is outstanding features too.
However, this blade is widely used for cutting boxes, tape, drywall, leather, cardboard, rubber, Kevlar, linoleum, etc.
6. Hook Blades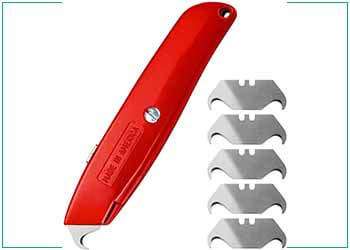 Hook blades look like a wide hook-shaped tip which is used for cutting thick or heavy materials. The two most used sectors of these hook blades are cutting linoleum being used as a carpet knife, and trimming the edge of shingles.
Truthfully be told, hooked blades are common and mostly used in residential applications. However, you cannot cut wood or any hard objects because it is not designed like that. But you can use it in a rotary motion to cut through wood or plastic.
Instead of finding divots in a serrated knife, you can easily use a hook blade. Anyways, this type of blade is a favorite tool for those who need to cut carpet or linoleum.
A good and quality hook blade knife is WEUPE Hook Blade Utility Knife. It is a heavy-duty retractable high-quality utility knife that offers a more comfortable grip than clunky, foldable knives. This hooked blade is made of full metal that ensures durability. The heavy-duty retractable razor knife provides extreme durability. It cuts and slices on boxes, plastic packaging, and straps. Most importantly, this product is made in the US. A professional blade is used for cutting roofing materials, linoleum, carpet, fabric, cartons, and sheet metal.
In addition, they conveniently store extra blades in the handle. Besides, you can change the blade quickly and easily. One more important thing is the blade easily retracts to lock safely within the metal frame when finished using.
---
Frequently Asked Questions
1. Can I sharpen my utility knife?
Of course, you can. In order to protect your utility knife from rusting, sharpening your knife from time to time would be a good idea. Or else, you will have it simply replaced. However, there will always be an option to remove the blade from its handle and sharpen it on a wet stone. This is why you need to know how to sharpen your utility knife. Remember, a kitchen sharpener wouldn't be ideal for it because the blade is short without a convenient way to hold it.
2. Are all utility knife blades the same size?
No, certainly not. Utility knives come in different sizes, shapes, and designs. The most common range of utility knives is from 4-6 inches. Depending on the nature of the work, users or professionals use the size of the utility knives.
3. Do I need heavy-duty box cutter blades?
Whether you need heavy-duty box cutter blades or not totally depends on the level of projects you are working on. Well, for a DIY project, you don't need heavy-duty utility knives but if you are a professional one, you can keep heavy-duty box cutter utility knives for your job. In this case, you can choose the Stanley Blade 11-921A pack.
4. Can I carry a utility knife?
Yes, you can. In fact, you can carry a Swiss army knife. Carrying utility knives is considered legal as EDC (Everyday Carry).
5. Are utility blades universal?
Yes, mostly. You know, a standard utility blade can be 61 millimeters wide, but the snap-off utility blades come in different sizes.
---
Final Words
If you have already read this article, you might have learned something about different types of utility knife blades that are illustrated with images in order to make you understand perfectly. Here we have discussed specifically 6 types of utility knife blades. Besides, we have tried to answer some important questions answers to enrich your knowledge. Knowing the types of utility knife blades can help you purchase the finest one for you.
---