A box cutter is one of the most important utility knives to cut various types of materials in our daily life. Box cutters come in a wide range of styles, sizes, designs, and shapes. Choosing the right utility knife for your job is not that hard if you know how to pick the best one. There are different types of box cutters and box cutter blades and you just have to pick the right one for you.
---
Box Cutters
Box cutters are specially designed for cutting boxes, paper, rope, rubber hoses, PVC, leather, and so much more. As there are many types of box cutters out there, you see the features and select the best box cutter for your necessity.
Different Types of Box Cutters
You may have thought these days, a box cutter is one kind of retractable type tool that is only used for cutting boxes, right? Well, you are right but you need to add more with your view. There are different types of box cutters out in the market and you need to see and pick the right one for you. Let's see what those are.
Pen cutter
Folding Box Cutters
Snap-off utility knife
Hook Shaped Box Cutters
Box Cutters With Squeeze Trigger
Clamshell box cutters
Finger ring box cutters
Disposable box cutters with dual end hooks
Box Cutter With Full Finger Covering
We will now try to elaborate on all of these box cutters one by one. Some of them may be already known to you while others not. Anyways, you can learn more from here. Stay with us.
9 Types of Box Cutters
1. Pen Cutter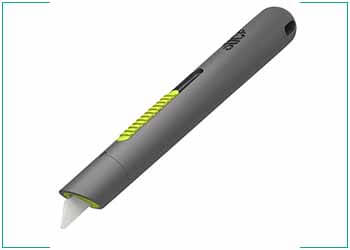 This type of box cutter looks like a pen and this is why it is called a pen cutter knife. Pen cutters are great for more precision cuts. These types of box cutters can fit into the palm of the hand and you can cut any paper or make any type of shapes you want. Anyways, they are called ambidextrous box cutters because you can use any of your hands to cut with this pen cutter.
Most time pen cutters are designed with auto-retracting blades. It means once you release the top slider, the blade automatically retracts.
Pen cutter blades protrude more than clamshell safety cutters but less than heavy-duty box cutters. This type of cutter can extend up to 1/2 inch. If you intend to cut corrugated packaging, boxes, and cardboard, pen cutters are the best tool for this type of job.
To mention such a pen cutter is Slice 10512 Pen Cutter which is auto-retractable and contains a ceramic blade inside it. The blade is made of Zirconium Oxide ceramic blade with a rounded tip for safety. Non-conductive and anti-magnetic and it never rusts. Designed primarily for cutting corrugated packaging, foam, vinyl, boxes, cardboard, etc.
2. Folding Box Cutters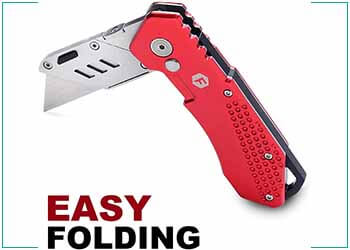 It is easily guessable why this box cutter has been named folding box cutter. This box cutting knife is great for cutting boxes and is easily foldable when not in use. You can port it into your pocket and carry it anywhere you want. The handle is satisfactory and provides a good grip. They can sometimes be multi-tools including other tools such as screwdrivers.
A quality mentionable folding box cutter is FC Folding Pocket Utility Knife. It is a heavy-duty box cutter with a holster. This box tool cutter looks sleek and aesthetic. Lightweight anodized aluminum design with anti-slip grip. Quick change blades, lock-back design, and lightweight aluminum body are its best features.
3. Snap-off Utility Knife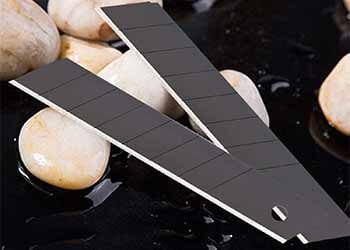 Snap-off knife is a piece of the segmented blade that snaps or breaks off when it becomes dull. The best advantage of this utility knife blade is you can break easily when the cutting edge becomes dull and use a new and fresh edge for cutting. In addition, you can lock it in place to extend the blade. And yes, it is only necessary to change the blade when it runs out all the pieces of the blade entirely.
HEIKIO Snap-off Blade is one of the best snap-off utility knives. It is made of black carbon steel. They offer 50 pcs utility knife blades in one package for the best quality and price. Very sharp blade and replacement blade for 18mm box cutter and utility knife. It provides a 60-degree cutting angle and 8 cutting edges per blade and is easy to operate.
4. Hook Shaped Box Cutters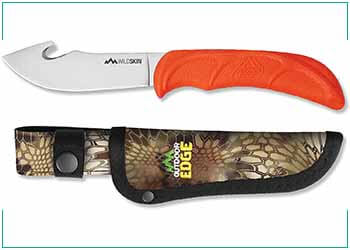 Hook-shaped box cutters look like a hook that is good for cutting various types of materials. It can be a retracted type knife or a type of hunting knife which is not retractable. The knife is a whole and has no separate parts. The handle is non-slip and the design is great. Handy and comfortable to use. It is a fixed blade for cutting boxes or another material easily.
A good hook-shaped box cutter is Outdoor Edge WildSkin – 4.0″ Fixed Blade Hook Skinning Knife. This is not only a box cutter but also it can be used for hunting and skinning knives. The razor-sharp blade has a rubberized nonslip TPR handle. Ergonomically shaped, high visibility blaze-orange TPR handle reduces hand fatigue after long periods of use. It also ensures a safe and comfortable grip, even in the slickest conditions.
5. Box Cutter With Full Finger Covering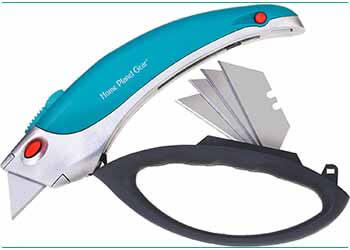 This box cutter with a full finger covering knife is a unique shaped knife. The handle of this cutter has a large covering to fit fingers for better control and safety. Featured with a fully retracted lock-in blade and blade storage built into the handle. It is considered a heavy-duty box cutter due to its double-edged steel blades. In addition, a box cutter with a full finger covering has a TPR rubber grip handle which is completely slipped and drop resistant.
A mentionable good box cutter with a full finger covering knife is Home Planet Box Cutter Retractable Utility Knife. It is a heavy-duty box cutter. Any weak hands can handle this knife too. The ergonomic TPR rubber grip provides you with premium comfort. It features an easy change with quick-release and convenient blade storage. Besides, it is strong and lightweight, retractable, and has a lifetime guarantee.
6. Box Cutters With Squeeze Trigger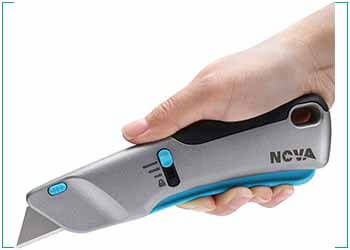 A box cutter with a squeeze trigger is a kind of knife that allows for extending the blade. This type of squeeze trigger system knife is a self and auto-retracting knife. It automatically retracts once the grip is released. These squeeze trigger system knives are very safe with an auto-retracting blade. The time you hold the trigger, the blade will come out. And when you release the trigger, the blade automatically retracts back inside. So, you don't need to retract or pull the blade back manually. This one is the best and safest knife to use. Handy and comfortable.
Another type of squeeze trigger system knife is a retracting knife that needs to push the blade out manually. TOPLINE Retractable Pink Utility Knife is an example of that knife. You can squeeze forward the button to expose the blade. The more you push forward, the more blade will come out. However, when you stop squeezing it, the blade will be locked there until you squeeze it back. You can change the blade when it becomes dull. The handle grip is awesome too. Good for cutting corrugated cardboard.
The best and safest squeeze trigger knife is Nova Squeeze Trigger Utility Knife. It is a heavy-duty box cutter with a self-retractable safety knife. Ergonomic aluminum body, safety-lock design, and durable and safe. Highly recommended.
7. Clamshell box cutters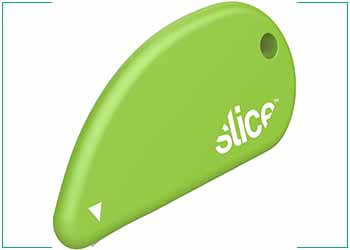 Clamshell Box Cutters can be called safety cutters. These box cutters are designed totally differently from other box cutters. They look like a half-circle or oval with a flat side that has a fixed extended microblade. There is a ceramic blade attached to the bottom of the Clamshell box cutter. It is used for cutting coupons, photos, scrapbooks, and others.
A good Clamshell Box Cutter is Slice Ceramic Blade Safety Cutter. It has clamshell packaging. Cutting any materials is quick, easy, and safe. It features a high-tech ceramic blade that's almost as hard as diamonds and it lasts longer than steel and never rusts.
8. Finger Ring Cutter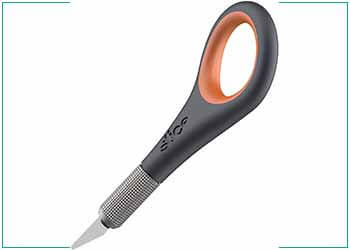 A box cutter tool is named a finger ring cutter because the tool is worn around a finger to operate. These types of box cutters are inexpensive and have a simple design. The people who work in a warehouse and shipping yards need this handy knife to easily and safely open boxes or other materials. The ring is supposed to fit most fingers. These have wide usage. The blade is made from steel and is up to 1 inch in length.
Such a mentionable box cutter finger ring knife is Slice 10580 Precision Knife. It has a unique handle with a finger grip. Precise control, detailed cuts, finger-friendly, last 11x long as stainless steel are the main features of this precision knife. It comes with a rounded-tip blade that guards against punctures. Great for cutting for paper, cardstock, leather crafting, vinyl, quilting applique, corrugated plastic, crafting felt, stencils, washi tape, and many more crafting/hobbyist materials.
9. Disposable box cutters with dual end hooks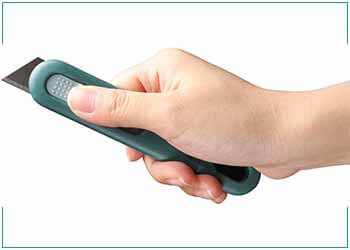 The Disposable box cutters with dual end hooks have a basic razor-sharp blade encased in a plastic covering on the end of an ergonomic handle. The blades are disposable and cannot be replaced like retractable utility knives. Once bent or broken cannot be fixed or replaced. So, the option leaves with throwing away or recycling. The end hooks allow for pulling the cutter towards the user.
The Disposable box cutters with dual end hooks are used for cutting string, tape, paper, cardboard, and many other materials.
One of the best Disposable box cutters with dual end hooks is Nova Disposable Safety Knife. Retractable design with no blade change option. The knife is lightweight and portable. It is safe to use as well.
---
Related Posts
---
Types of Box Cutter Blades
Box cutter blades are very important to cut any materials quickly and smoothly. Precise cutting depends on a sharp blade of a utility or box cutter knife. The razor-sharp blades can make a smooth cut.
However, there are different types of blades you need to choose from. Knowing this type of box cutters and box cutter blades would be an outstanding experience for you. So, let's know about the types of box cutter blades.
Break Away Blades (Self-Loading Blades)
These kinds of blades are also called snap-off blades. This blade is made of some fragmented pieces of blades. You can snap off one piece when the running piece becomes dull or blunt. As you can get the next one after snapping one, this is a self-loading blade too. You need not change the entire blade every time. Break the used one and squeeze forward the button. The new piece comes out and you can start using it. These are really very convenient. Anyway, you can consider using a heavy-duty box cutting knife with a single standard razor blade.
Single-Sided Blades
You may understand the term what single-sided blade is. There are some blades that can be used on both sides but in this case, you can use only one side of the blade. These blades can be either hexagonal or rectangular in shape. Or, in other words, square-edged and angled edge.
These single-sided blades are very common to find and inexpensive. However, they are usually made of stainless steel or carbon steel.
In addition, some single-sided blades feature a hole on the other end to lock the blade in place. Users can often find if in Exacto knives that use a special pointed blade for precise cuts. Single-sided box cutter blades are much stronger than break-away blades.
One downside of this kind of blade is that if the blade is worn down, a new one must be installed.
Double-Sided Blades
Double-Sided Blades have double edges to cut materials. When one side is worn down, just reverse the blade and lock it in place. This is how you can use the two sides of the blade. Double-sided blades are usually hexagonal-shaped. They are also made of stainless steel or carbon steel like a single-sided blade.
Rectangular General Purpose Blades
The rectangular general purpose blades look rectangular-shaped with a rigid edge on one side for sturdiness. These blades are very sharp and sold in packed boxes. However, some blades have a hole in the center.
In addition, if you need to cut any materials precisely and with high pressure, this type of blade is effective and useful. Thicker materials like drywall and heavy-duty cardboards can be cut with rectangular general-purpose blades easily.
---
Blade Materials
Blades of box cutters or utility knives are made of different materials that also work differently. If you know the types of materials of the blades, you can choose the right blade. This would be helpful. So, let's know about the different types of blade materials used in utility knives in our daily life.
Ceramic Blades
Blades made of ceramic are known for their long-lasting feature. They are not susceptible to rust as well. Ceramic blades are costlier than stainless steel blades.
In addition, ceramic blades have unique shapes and sizes. Some have rounded tips so that they can prevent any unexpected accidental injuries.
The best advantages of ceramic blades are it never rusts, are chemically inert, non-magnetic, non-sparking, non-conductive, and non-porous. These kinds of blades require no oil or lubricant coating. Moreover, they are non-reactive to acids and salt.
Zirconium Oxide (ZrO2)
One of the hardest materials is Zirconium Oxide. Truthfully telling, it is much harder than even the hardest steel for dimensional and impact strength. Due to oxidation-resistant, it does not rust as steel does. Besides, it doesn't require any oils on top of the blade to prevent rusting.
Since the Zirconium Oxide is so strong, it stays sharp longer time.
Stainless Steel Blades
Stainless steel blades are very common and inexpensive. Though they are not as strong as the higher-end alloy steel blades, or in some ways ceramic blades, nevertheless, they are strong enough to cut materials smoothly and quickly.
Besides the many advantages of stainless steel blades, it has some downsides. One of the drawbacks is it is susceptible to rust and bacteria. So, if you get cut by any stainless steel blade, you should require immediate medical attention.
Carbon Steel Blades
Carbon Steel Blades are made of a mixture of iron and carbon that contains less than 10.5% alloy content of other metals, such as chromium. They are composed of iron and 0.12 – 2.00 percent carbon. These kinds of materials are used for industrial products such as tools, railway wheels, knives, gears, and crankshafts.
Features
Minimum required copper content must not exceed 0.40%
Maximum content of manganese must not exceed 1.65%
No minimum content requirement for chromium, cobalt, nickel, titanium, tungsten, vanadium or other corrosion-resistant metals
Maximum content of copper must not exceed 0.6%
Maximum content of silicon must not exceed 0.6
Heavy Duty Carbon Steel Blades
These types of carbon steel are made of higher-end steel alloy that is 3 times longer lasting than the regular carbon steel blades. For example, SK5 steel. It is popular steel that is used for hunting, fishing, and other general-purpose knives due to its low cost and moderate strength.
---
Carbon Steel Vs Stainless Steel
Carbon steel and stainless steel are not the same. They are different in nature and construction as well. It is tough to say one is superior to the other. Anyways, both of them have benefits and drawbacks.
What are the differences between Carbon Steel and Stainless Steel?
Firstly, Stainless steel is more powerful to protect from corrosion and rust due to its higher chromium content.
Secondly, Carbon steel can corrode and rust more quickly due to its high carbon content.
Thirdly, Stainless steel is, undoubtedly, more aesthetically appealing. It is often used for jewelry and other decorative products.
Fourthly, Carbon steel is stronger and more durable than stainless steel.
So, what should I do?
Should I Pick Carbon Steel or Stainless Steel?
Since high carbon steel and stainless steel have some differences, you can choose by yourself once you know about this well. Let's compare them by a comparison table. It would be great.
Carbon Steel Vs Stainless Steel Comparison Table
| High Carbon Steel | Stainless Steel |
| --- | --- |
| Vulnerable to rust | Resistant to rust |
| Brittle | Less brittle |
| Wear-resistant | Less wear-resistant |
| Not like stainless steel | Aesthetically appealing |
| Stronger and more durable | Less strong and less durable |
| Professionals often choose high-carbon steel | Home chefs often choose stainless knives |
Carbon Steel Vs Stainless Steel
---
Which Slice Tools Take the Box Cutter Replacement Blades?
There are tools that these small box cutter blades fit in box cutters. The tools include pen cutters, Folding Box Cutters, Snap-off utility knife, Hook Shaped Box Cutters, Box Cutters with Squeeze Trigger, Clamshell box cutters, Finger ring box cutters, Sleeve box cutters, and others. These utility tools are manual as well as auto-retractable.
---
How Long Will This Box Cutter Blade Last?
There is no straight answer to this question. Because there are many criteria that depend to answer it. To answer this question requires some information such as how frequently it's used, what sort of materials it's cutting, and how it is taken care of. However, results from third-party testing, slice blades tend to last up to 11 times longer than comparable steel blades. In addition, if you use a double-sided blade, the advantage is you can use both of the sides once one side becomes dull. Some users say that they have made 30,000 to 40,000 cuts before having to change the blade. For a utility knife, this huge time usage of the blade is not that bad. If you use any blade with care, the blade can last longer than you think.
---
Should I Choose a Rounded-Tip or Pointed-Tip Box Cutter Blade?
Choosing the best box cutter blades either a rounded-tip or pointed-tip depends on the nature of your job. How frequently you are using the blade and what kind of materials you are cutting are the main factors. However, some materials such as flexible plastic films, fiber-reinforced bags, and fabrics require the blade to cut with a puncturing action where a pointed-tip box cutter blade is applicable.
A rounded-tip box cutter blade, on the other hand, is supposed to be a safeguard against accidental punctures. So, safety being your primary concern, a rounded-tip blade would be the best for your job for cutting corrugated, foam core board, clamshell packaging, and others.
Regardless of which box cutter blade you choose, it is really important to achieve the most effective cutting depth and ergonomic angle.
---
How to Install New Box Cutter Replacement Blades?
Well, installing a new replacement blade is an easy task. You just have to follow the steps. If you are a new one, stay alert during the process especially when you are dealing with a razor-sharp blade.
The Process you should follow:
Step 1: first unscrew the casing of the knife that is holding the blade.
Step 2: separate the casing simply by pulling apart both halves.
Step 3: take out the blade holder and remove the blade carefully.
Step 4: replace the old blade and then place the blade holder back into the casing.
Step 5: since you replaced the blade successfully, you now add some oil or grease to work it fine. Use a soft tissue or cloth to spread the grease to every vital point and then remove them softly.
Step 6: now, put the halves back together to screw back and screw them back together carefully.
Step 7: screw them back together and congratulations you installed a new blade successfully.
After installing the blade, test it by sliding the blade out and back in as if they work fine or not. If you can successfully do this work perfectly, your box cutter must work.
---
How to Dispose of Box Cutter Blades?
After changing any blade from your utility knife or tool, it is very important to dispose of them. You can dispose of the box cutter blade by using the Slice finger-friendly grind. However, the risk of injury is very low and you can put them with regular waste.
Here is another option which is recycling the blades. Blades used in utility knives are often made from zirconium oxide which is 100 percent recyclable. If you find any ceramic recycling facilities in your area, you can take them to recycle.
---
Final Words
We have finally learned some information about the types of box cutters and box cutter blades. Besides, how to install a new replacement blade is also discussed here. If you have walked with us to this section, we hope you got something here to learn. However, we have tried our level best to let you know about the types of box cutters and box cutter blades.
If you found this article helpful, we would be proud. Anyways, if you have any questions to ask, you are free to ask through the comment box or contacting us page.
---