Wire cutters are the best friends of electricians. A toolbox is incomplete until storing a wire cutter. This is an essential tool we need in our daily life. Wire cutters and wire strippers are like twin brothers. Wire cutters are commonly used to cut copper, brass, iron, aluminum, and steel wire. Most wire cutters feature insulated handles so that you will not get shocked by the wires you are working with. In our daily life, we use different types of wire cutters. If you know and recognize the best wire cutters, it would be an added quality you earned. So, let's now discuss the different types of wire cutters.
What is a Wire Cutter?
A wire cutter is a kind of hand tool that is used to cut various types of materials like brass, aluminum, iron, copper, and so on. A cutter has two levers that are fixed together by a fulcrum which is located closer to one end. It has two parts. The shorter part looks like jaws while the longer section comprises the handles.
Materials can be cut by using levers and increasing the strength of grip. And how does it work? Once you press on the handles, the holding power is magnified and it is directed to the point where the pincers meet.
However, wire cutters are very useful for a wide range of applications. Since they are small in size, these tools can potentially be dealt with by the hands.
In addition, there is a long selection of different types of wire cutters available. They come in different sizes and designs along with a range of pincers and joints. There are three basic types of wire cutters such as locking, adjustable, and non-adjustable. These hand tools wire cutters are made from steel.
Different Types of Wire Cutters
In this section, we are going to discuss some types of cutters. They are ideal for different fields.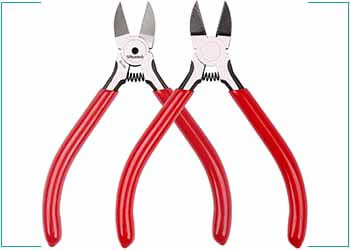 These kinds of cutters offer a nice, clean, and smooth finish in cutting materials better than scissors or knives. It won't be wise to cut harder items such as nails or screws. These cutters deliver a diagonal cut. However, people know this tool by several different names such as side-cutters, diagonal cutters, "dikes," or even "diags."
These cutters are usually used for cutting soft copper or aluminum electrical conductors. Side cutter tools leave marks on the wire after cutting. It happens because the jaws force the wire to break rather than cut through cleanly. If leaving a spike on the wire is not an issue, these types of jobs can be done by using normal wire cutters as they are relatively cheap and can last for many years.
You can choose such a wire cutter. One of them is Whizzotech Wire Cutter which is made of Chromium Vanadium Stainless Steel. Weighing only 2.8 Ounces, this side cutter hand tool comes with a comfortable non-slip handle and opening spring. Easy to cut memory wire, headpins, eye pins, small chain, tiger tail, cords, beading, thin wire, and your electrical repair needs.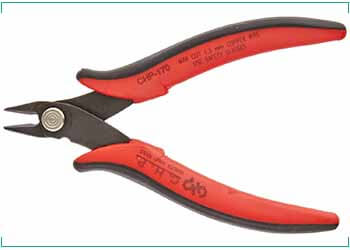 Flush cutters are used to cut to the materials for a clean design look. These hand tools are very versatile and multitasking tools. They are good at cutting headpins, eye pins, cable-style beading wire, soft wire-wrapping wire such as copper, dead soft and half-hard precious metal, etc.
Being the jaw diagonal, a flush cutter can cut semi-flush, flush, full flush, and super flush. The wire remnant on the angled side will have an angle or "V" cut.
A good flush cutter's name is Hakko-CHP-170 Micro Cutter. This flush-cut micro soft wire cutter features an 8mm long jaw with an angled head for flush-cutting applications. The Hakko-CHP-170 Micro Cutter is made of heat-treated carbon steel that ensures durability and long life. The Dolphin-style nonslip handgrips with a curve fore-edge provide comfort and control. In addition, the parkerized surfaces prevent glare and increase corrosion resistance.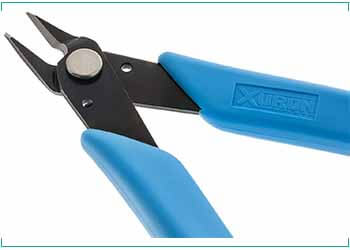 A shear cutter is the separation of workpieces by two blades that is able to cut the smoothest cut possible. This cutter is a hand tool and can cut different types of materials. But be careful while cutting because pressing hard can make the blades dull.
A high-quality tool is fitted with adjustment. Shear tools can be cut precisely.
A good quality shear cutter is Xuron – 170-II Micro-Shear Cutter. This shear cutter is good for cutting soft wire. It is made of Alloy steel and has a return spring and non-slip hand grips. The Xuron shear cutter is compact and good for access into small spaces.
This electronics-grade hand tool is used in the field of the electronics, aerospace, plastic molding, floral, and fishing industries.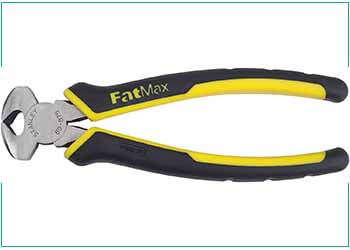 The End Cutting Pliers have half-circled jaws that are at the right angles to the body of the tool. This shape helps to cut different types of materials like nails, screws, and rivets. This cutter is also used for exacting nails from wood by using the jaws as a fulcrum.
The alignment of the jaws is important. They should close on one another with no light visible between them which means the jaws will have full contact between the cutting edges and this is how you can get a quality end cutting plier. One more important thing is that there will be no free play in the pivot point between the two handles.
If you want to buy a quality end cutting pliers, STANLEY MaxSteel Pliers is one of the best ones. The MaxSteel Pliers is the perfect tool for flush cutting soft wire. These pliers are hand-finished and have induction-hardened cutting edges. An important piece of information about this STANLEY MaxSteel Pliers is that MaxSteel pliers are designed to reduce cutting effort by 45 percent, and increase edge life by 33 percent.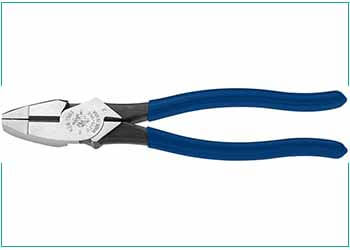 Lineman's wire cutters, also known as combination cutter, is one of the workhorses of the wire-cutting family of tools. There is a great similarity between the Side Cutters and the Lineman's Wire Cutters. The only difference is in wide and flat jaws for gripping objects.
Due to its thickness and sturdiness, the lineman's wire cutters are able to cut steel fencing wire, thick nails, or even steel screws with no trouble at all. And all of these possibilities for the levering action of the long handles. In addition, these pliers often incorporate a guillotine-like cutting action.
So, due to its opening and closing handle aligns, this Lineman's Wire Cutters can cut through any nail, screw, or even small-diameter steel rod.
One of the recommended wire cutters is Klein Tools D213-9NE Pliers. It is a 9-inch side cutter with high leverage linesman pliers. The design of this cutter is productive. For example, the Klein Tools D213-9NE Pliers is 46-percent greater cutting and gripping power than other plier designs. This is all possible for the rivet position which is closer to the cutting edge. Smooth action and no handle wobble. Sure-gripping, cross-hatched knurled jaws, and this product is made in the USA.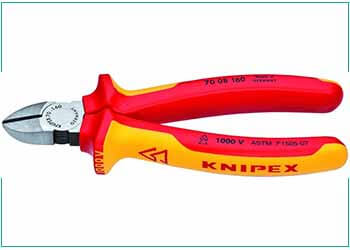 Most types of cutters are designed to be insulated to prevent electrical shocks. It is necessary to check before buying an insulated wire cutter whether its handle is covered with rubber or plastic or nothing. A wire cutter with proper electrical insulation is essential as well to prevent you from happening any incidents being shocked by electricity.
You may have seen often, most wire cutters are provided with soft-grip handles to hold it more comfortable but in fact, these coatings are not quite protective against electrocution.
However, these plastic-covered handles wire cutter tools may seem safe to use but they are not rated for use with high-voltage electricity.
So, if you intend to buy a quality and properly insulated wire cutter, you should buy a pair from a reputed dealer in tools and at the same time avoid the cheap and substandard tools.
A well-coated and reliable insulated wire cutter tool is KNIPEX – 70 08 160 SBA Tools. This is a precision-grade performance tool. You can say the number 1 choice of tradesman worldwide. Comfortable in use and quality assured in design. You can rely on this diagonal cutter.
Needle Nose Wire Cutters, also known as pointy-nose pliers, long-nose pliers, pinch-nose pliers, or snipe-nose pliers, can mostly be seen to the electricians. The sharply tapered jaws of these needle-nose cutters make it easy to bend and insert the wire into switchgear in electrical panels. Where there is not enough space to use any other type of pliers or cutters, the needle nose wire cutter easily fits there and makes the work done. Besides electricians, they can be used by artisans, jewelry designers, network engineers, and tradesmen to bend and reposition wire.
If you need a needle nose long wire cutter, NEIKO 02105A Long Nose Plier is one of the best ones. You can see this is a 4 needle nose pliers set. These snipe nose pliers have a wide range of use. This is an extra-long 11-inch length heavy pliers suited for industrial, construction, home garage, or professional automotive use. Very versatile. Curved tip pliers are suitable for easy access to hard-to-reach wires and cables at different angles. The set includes straight 45 and 90 degree angled pliers.
In addition, there are riveted joints for smooth action and the cross-cut teeth at the tip provide omnidirectional gripping. Moreover, the textured non-slip rubber soft-grip handle is comfortable to hold, easy to grip while wet, insulated for cold weather use. This is really a handy plier to use.
Some More Types of Cutters
As we have already shown the main types of cutters, here are some additional types of cutters too. Let's read those.
Wire Rope Cutters
These kinds of cutters work by pulling the rope into the jaws. Once it pulls, it traps it and makes a clean cut. This cut results in no fanning as well. This is why they are quite ideal for shearing wire rope.
Bolt Cutters
The bolt cutters are used for cutting through metal as they are designed to create a big amount of torque. However, they can be used on many different types of metal that lead to bolt cutters. It is a commonly used tool in the construction industry. These bolt cutters are great for snipping bolts off containers and cutting through thick chains or leads.
Hydraulic Cutters
One of the powerful cutters is a hydraulic cutter. It is used on different types of conductors, wire ropes, and solid bars. Hydraulic cutters feature a guillotine-style head shear to minimize jams. Big companies use such powerful and strong tools in the fields of power utility and the electrical industry. These types of cutters are particularly used for chopping copper or aluminum power cables and overhead conductors. A wide range of models are available such as a manual, battery, remote hydraulic head, and so on. Besides, you can easily find there are different types of tool heads including ratchet, guillotine, and scissor types.
---
Diagonal Cutters vs Side Cutters
The term "flush" means level or straight. So flush-cutters cut a wire level. On the other side, Side cutters or angle cutters cut on an angle that the wire edge would be cut to one side.
Side cutters are high leverage side cutters while Diagonal cutters are your Dikes or Snips.
But, Diagonal cutters and Side cutters are often used interchangeably. This is why it is very difficult to understand the differences and similarities between them. Besides, there are some types of cutters that have subtle differences. Each type of cutter is used for different applications and multiple tasks.
Both of them are designed to cut wire or cable at an angle. The tools are durable and hard-wearing. Professionals always use these kinds of tools.
While side cutters whose blades are parallel to handles are most times hard to get a flush or flat cut with the surface, Diagonal cutters are generally a better angle to cut.
Besides, larger cutters generally appear to be straighter like true side cutters and even shears though you might not have ever seen a cutting diagonal shear for larger wire.
However, the term "Side cutter" can be used for all wire cutting tools, but in terms of the diagonal cutter, it is certainly more specific to having an angled cutting face away from the handle line. And yes, it is not to be confused with pliers at all.
---
How to Use Cutters
There are some precautions you need to apply before using cutters. Knowing different types of wire cutters and their uses is really important to know. So, let's see what those are.
Wear safety goggles to protect your eyes against particles.
Cutting at right angles and avoiding wiggling the tool is necessary.
Instead of using them on nuts and bolts, you can use a wrench for this job.
Cutting hardened cables until it is instructed to may dull the edges, so refrain from it.
Regular maintenance like a drop of oil in the hinge can keep the tools smoother and make the work easier.
Exposure the wire cutting tools to excessive heat can risk to malfunction.
Not using cushioned levers while working with electrical wiring would be a grave mistake because they are not insulated that may cause an accident.
Sharp edged cutting tools can make a clean and easy cut while a blunt cutter does the opposite.
Tools should be always free from oil, grease, or other slippery elements because these are reasons enough to compromise ones safety.
A big mistake we often make is hammering on the tools to cut objects or materials which should be totally refrained from it.
Pliers are to be pulled on them, not pushing them away because if the tool accidentally slips, the user could sustain an injury.
---
How NOT to Use Wire Cutters
Exposure any wire cutter to high heat can potentially destroy the temper of the blades that can lead to the tool useless.
Do not allow any types of wire cutters to come into contact with water and in case it does anyhow, dry it off immediately to prevent from rusting and damaging it.
Refrain a wire cutter from using as a hammer. Use a hammer instead and that would be effective and safe.
Extending the length of wire cutters to increase leverage is a wrong way to do. Instead, you should use a larger one that is designed to cut the material.
And, do not ever try to bend hard steel wire with cutters. If you do, the force applied on it can make the jaws out of original alignment and potentially damage the pivot point.
---
Frequently Asked Questions
1. What is the wire cutter used for?
A wire cutter is a hand tool that is used to cut a variety of materials such as copper, brass, iron, aluminum, and steel wire.
2. Can needle-nose pliers cut wire?
Needle nose pliers are a special type of pliers that are commonly used to cut and bend small wires. Yes, needle nose pliers can cut but the materials must be soft and thin and most importantly they won't be steel. However, needle nose pliers are specially designed to be used for reaching tight spots where regular pliers are unwieldy.
3. What tool is used to cut wires?
Different types of wire cutters are used for different purposes. You have to specify the problem and then find the answers. However, there are many cutting tools out there for many applications including electrical, communications, and construction work. Use to grip, splice, or cut wires, and strip insulation.
4. How are wire cutters similar to scissors?
Yes, a wire cutter has the similarity to scissors. Wire cutters have a stronger jaw hinge and the blade of it is designed to cut through strong materials. On the contrary, scissors have a finer blade edge but the jaw hinge is not as strong as a wire cutter and it is designed for some specific jobs.
5. Are wire cutters and wire strippers the same thing?
Wire strippers are best for removing the insulation from wire while cutters are best for cutting wire. Very simple. So, Pliers help you reach, bend, grab, cut, hold and loop wire, and crimpers are used to join two pieces of ductile material together.
6. What are the holes on wire cutters for?
The holes on the wire cutters are used for cutting small screws or bolts to length. The using procedure is very simple too. Simply thread the screw/bolt into the proper sized hole to the length you want to cut and then squeeze the handles together. The pressure applied on it causes the screw/bolt trim without damaging the threads.
7. What is the use of side cutter?
Side cutters are supposed to use for cutting wire and the leads of the components in electronics. However, they can be useful to strip the insulation from wire.
8. What are the basic parts of wire cutters?
The basic parts of wire cutters are tip/nose for holding, twisting, or creating hooks or loops in wire. Different size stripping blade slots.
9. Can side cutters cut wire?
Yes, of course, Side cutters can cut wire. Diagonal cutters have precision cuts too. Both of them are designed to cut wire or cable at an angle.
10. Can side cutters cut steel?
To cut copper, brass, iron, aluminum, and steel wire, a Diagonal plier is the most useful tool. But a high-quality side cutter can cut hardened steel.
11. Do I need insulated wire cutters?
When you are dealing with electrical cables, it is highly recommended to use VDE certified insulated cable cutters as an extra precaution. If you don't, you can be electrocuted anytime.
---
Final Words
We have tried to focus here on the different types of wire cutters and their uses. Different wire cutters are used for different purposes. We have also discussed the dos and don'ts. The proper use of different types of wire cutters is important as well to last it long time. Following the instructions can avoid danger. So, you should buy the right wire cutter and use it accordingly.
---
You May Like
---